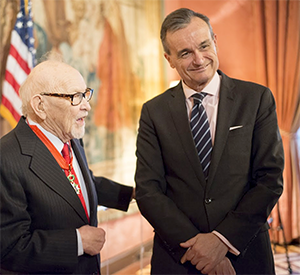 Rosenberg is the last surviving member of the emergency rescue committee, led by American journalist Varian Fry.
The ERC — operating out of Marseille —rescued artists and intellectuals from the Nazis in 1940-41, among them Max Ernst, Marc Chagall, Franz Werfel and André Breton.
After the ERC was expelled from France, Rosenberg was left behind. Arrested, he escaped from a detention camp and joined the French underground, where he fought until he was reassigned as a reconnaissance officer to the American Army, as part of Task Force Butler. As the war ended, Rosenberg worked as a supply officer, helping 17,000 displaced persons.
Rosenberg still teaches at Bard College.
Dr. Rosenberg's memoirs will be published in 2018.