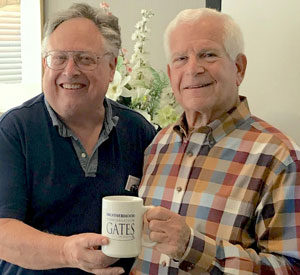 By BOB MICHAELS
SCHENECTADY– "The U.S. Space Program — Up Close and Personal" was Dr. Lester Gerhardt's topic at the Temple Gates of Heaven Brotherhood Breakfast-and-A-Speaker Program event on Sunday, Sept. 17. Gerhardt, a Gates member and emeritus RPI professor of engineering, described his contributions to the U.S. space program, and his relationships with several of its luminaries. These included NASA administrator and eventual RPI president George M. Low, captured Nazi V1 and V2 rocket engineers Walter Dornberger, who had reported directly to Adolph Hitler, and Werner von Braun, who reported to Dornberger. Both Nazis joined hundreds of others brought to the U. S. to work on the space program It was important to the U.S., to deny their talents to the Soviet Union.
Gerhardt joined Bell Aerospace in 1961, where he occupied an office down the hall from Dornberger. Von Braun ran the NASA program out of Huntsville, Ala., where he displayed a framed personal message from Adolph Hitler apologizing for his lack of faith that the V1 and V2 Programs, run using slave labor at Peenemunde, actually would succeed. Succeed they did, and formed the basis for subsequent American rocket development, overshadowing the historically earlier efforts of American rocketry pioneer Robert H. Goddard, namesake of the NASA Goddard Space Center in Greenbelt, Md.
Gerhardt contributed to designing technology, including the Agena engine that powered the Atlas family of rockets, and helped design visual simulation software used to train astronauts for missions.
Gerhardt expressed his hope and belief that neither a hot nor a cold war should be necessary for continued evolution of our cooperation in the human international endeavor to explore space.
The next Breakfast-and-A-Speaker Program has been announced for Sunday, Oct. 15. The "History of the Movie Industry:  Screwball Comedies" will be Dennis Kipp's topic.