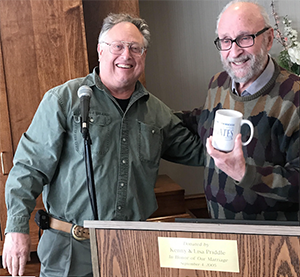 By BOB MICHAELS
SCHENECTADY–The Reading Is Fun Program (RIF) in Schenectady, 'Where Every Child Is Everyone's Child' was the topic of Dr. Alvin Magid's presentation at the recent Temple Gates of Heaven Brotherhood Breakfast-and-A-Speaker program. 
Magid in 2002 retired as a professor of political science at the University at Albany, and in 2012 founded RIF in recognition of the urgent need for a program in Schenectady to improve reading skills of children, especially four- to nine–year-olds, in first to third grades.
Everyone's Child
Magid illustrated RIF's response to the reading program need with a personal experience living with the Idoma people in south central Nigeria while engaged in his doctoral research. He noticed that infants frequently were breastfed by women who were not their biological mothers. When he inquired, a village elder introduced the idea that, among the Idoma, "every child is everyone's child."  This principle materialized for Magid when a flat tire stranded the Magid family on the side of a hot Nigerian road. A woman offered to breastfeed his young children. The price?  Zero, because, "among the Idoma, every child is everyone's child."
Volunteerism
RIF is based upon volunteerism, an institution whose strength in the U. S., according to Magid, distinguishes us from other countries globally. Thus, he does not want to pay people, not only because RIF lacks sufficient funds to do so, but because he seeks to tap into the spirit of volunteerism. Another contributor to the quality of RIF according to Magid is that the volunteers interact with students. Each student understands that someone cares. Mutual bonding occurs, and students often miss their volunteer teachers when travel or other responsibilities interrupt a scheduled meeting, according to Magid.
RIF is open to entering into mutually beneficial partnerships, and makes use of six key partnerships. One is with the Schenectady School District, which provides students and space, as RIF is primarily a school-based program. A second is with the District Education Foundation, represented in the audience by Gordon Zuckerman, providing a conduit for donations, as RIF lacks 501c3 not-for-profit tax status, so direct donations to RIF are not tax deductible. Third, RIF partners with the Schenectady Boys & Girls Club, which provides insurance for community events if held in its space. Fifth and sixth, RIF partners with the Schenectady Police Department and Police Benevolent Association, enlisting uniformed officers as volunteers.
Future Plans
RIF faces challenges. The biggest, Magid hopes, will be overcome soon, with RIF's planned Grand Reading Jamboree. This event seeks to involve parents along with their 4- 9-year-old children, and thereby enable RIF to go beyond its operational base within schools. According to Magid, RIF may expand beyond schools, but always will remain within the City of Schenectady, to which it is devoted, notwithstanding inquiries from coast to coast, and opportunities to franchise and expand beyond the City:  "We're not teaching rocket science," said Magid. "We're teaching something that children actually can do now, not something beyond their reach."
In recognition of RIF's activities, Dr. Alvin Magid shared that he recently learned that Schenectady County is honoring him as Senior Citizen of the Year.
Bob Michaels is the Temple Gates of Heaven Breakfast-and-A-Speaker program chairperson.