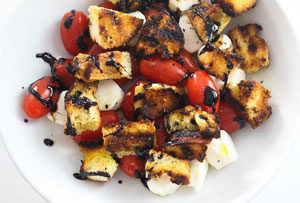 By MEGAN WOLF
NEW YORK CITY (JTA) – Two things are especially important to my holiday dishes: ease of preparation ahead of time and, of course, appeal to crowds. When time is short — and really when is it not short? — let's make things as simple as possible.
This menu fits the bill while offering a combination of flavors, textures and colors.
The grilled challah Caprese salad is one of my favorite dishes and is elevated with a super flavorful — and incredibly easy to make —balsamic glaze. The challah can be grilled ahead of time and set aside in a covered container for up to two days.
Israeli couscous cooks very quickly and has a simple flavor profile allowing the grain to take on bolder flavors like the toasted sesame oil and dried fruit.
The salmon dish is perfect roasted, pan seared or grilled. The spinach and walnut chimichurri sauce is versatile; try it on chicken or other varieties of fish. It also lasts a few days in the fridge, so can be made ahead of time.
For those who don't care for spicy flavors, skip the red pepper flakes.
GRILLED CHALLAH CAPRESE SALAD
2 cups diced challah
2 1/2 cups cherry tomatoes
1 1/2 cups mozzarella balls
1/2 cup balsamic vinegar
3 tablespoons olive oil plus more for grilling
kosher salt to taste
Heat a cast-iron grill pan or traditional grill until very hot.
Toss challah with olive oil and place on grill pan, cook until all sides are grilled or slightly charred, set aside.
In a large bowl, combine tomatoes and mozzarella and set aside.
Immediately before serving, heat a small saucepan over medium heat and reduce balsamic vinegar until thick.
Add grilled challah to tomato mixture and drizzle with reduced balsamic vinegar, olive oil and top with kosher salt to taste.
Serve immediately.
Note: The balsamic glaze can harden if it is overcooked or taken off the heat and left to rest. Reduce immediately before you are ready to serve.
ISRAELI COUSCOUS WITH DRIED FRUIT
1 cup water
1 cup vegetable stock
1 cup Israeli couscous
1/4 cup each: golden raisins, traditional raisins and cranberries
2 tablespoons toasted sesame oil
salt to taste
 In a large saucepan, boil water and vegetable stock, then add couscous and reduce heat to low.
Cook couscous until the liquid has almost fully absorbed, about 8 minutes, then add dried fruit and continue cooking until all liquid is absorbed.
Toss couscous mixture with sesame oil, season to taste with salt and serve immediately.
Note: The couscous can clump if it is cooked and left untouched. Serve as soon as possible after cooking, or toss with a touch of olive oil to help loosen the clumps.
SPICY SPINACH AND WALNUT CHIMICHURRI SALMON
2 cups raw baby spinach
1/4 cup parsley
1 teaspoon dried oregano
1/2 cup olive oil + more for fish
1/4 cup balsamic vinegar
2 tablespoons honey
1/2 teaspoon red pepper plus more to taste
1/4 cup toasted walnuts
salt to taste
4 5-ounce salmon filets
Preheat oven to 425 F.
To make the chimichurri sauce: In a blender or food processor, combine spinach, parsley and oregano until finely chopped. Drizzle olive oil and balsamic vinegar, then blend to combine. Add honey, red pepper and walnuts, pulse until combined then season to taste with salt and set aside.
Pat dry each salmon filet and lightly brush salmon with olive oil and roast 6-8 minutes, or until the fish is cooked to your liking.
Top with chimichurri sauce and additional red pepper flakes and serve hot.