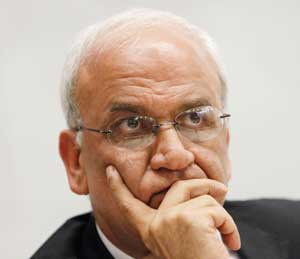 (JNS) – American attorney and ex-Nazi hunter Neal Sher has called on U.S. Attorney General Bill Barr to deny Palestine Liberation Organization Secretary-General Saeb Erekat entry into the United States to mentor students at Harvard University.
In a Sept. 16 letter to Barr, Sher cited "an overwhelming amount of publicly available evidence" that Erekat has incited terrorism and set up a fund to reward the surviving families of Palestinian suicide bombers.
"At a time when all nations are working to combat the scourge of terrorism, this 'pay to slay' policy does nothing but incentivize and encourage terror," wrote Sher, former head of the federal Nazi-hunting Office of Special Investigations, to Barr.
The Future of Diplomacy Project at Harvard Kennedy School's Belfer Center for Science and International Affairs recently announced that Erekat will serve as one of four Fisher Family Fellows for the 2020-21 academic year. Sher said that Erekat is scheduled to arrive for in-person classes in the spring semester. All Harvard classes are online due to the coronavirus pandemic.
Jewish and pro-Israel groups had  slammed the Belfer Center move.
In a 2014 interview with Al Jazeera, Erekat stated: "I will never recognize Israel as a Jewish state."