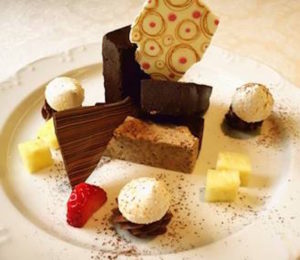 With Passover fast approaching, award-winning executive chef Nir Elkayam of the Inbal Jerusalem Hotel has created  mouthwatering recipes for the holiday.
"The greatest challenge of Passover is creating tasty recipes despite the restrictions of the holiday," said Elkayam. "These recipes reflect the holiday spirit and prove that Passover food doesn't need to taste as if its lacking."
Chocolate Marquis Batons
3 eggs
1/4 cup granulated sugar
18 0z. bittersweet chocolate, chopped
2 cups. nondairy creamer—for whipping
3/4 of a cup nondairy creamer —to replace milk
Preheat oven to 300 degrees
Lightly whip the eggs and sugar
Heat the nondairy cream until it reaches a boil.
Add the chocolate and mix until melted and homogenous
Pour the chocolate blend into the whipped eggs and lightly mix until well blended
Pour mixture into a silicone mold in the shape of batons (or any other mold you like)
Place into the oven for about 15 minutes
Chill the chocolate in the silicone mold in the freezer for a minimum of 2 hours, and until ready to serve 
Dairy Chocolate Pecan Batons
2 ½ cups. salted pecans, minced
2 cups. melted white chocolate
½  cup melted cocoa butter
6/10 cup milk
6/10 cup. water
2 tsp. instant coffee powder
8 egg yolks
½ cup. granulated sugar
23 oz. bittersweet chocolate
Mix the nuts, white chocolate, cocoa butter until mixture is uniform
Pour the mixture in silicone molds, filling only half way to the top
Cool the silicone mold with the mixture in the freezer
Prepare a crème anglaise with the milk, water, instant coffee, yolks, and sugar
Pour the crème anglaise over the chocolate and mix
Pour the mixture into the remaining area of the silicone mold and return to the freezer until ready to serve.
The Inbal Jerusalem Hotel is an award-winning, deluxe hotel situated in the heart of Jerusalem overlooking the Old City walls. The hotel was recently awarded the 2016 TripAdvisor's Certificate of Excellence award.  Previously the property was voted the most luxurious hotel in the TripAdvisor Travelers' Choice Awards, as well as the best hotel in Israel and fourth best hotel in the entire Middle East by readers of the Condé Nast Traveler magazine