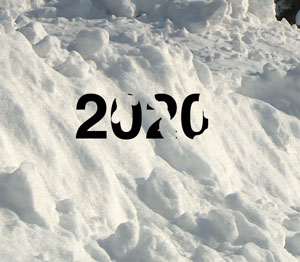 By MARILYN SHAPIRO
"Wintering brings about some of the most profound and insightful moments of our human experience," "and wisdom resides in those who have wintered," writes British writer Katherine May in her book, Wintering: The Power of Rest and Retreat in Difficult Times. She was recounting her own "sad" time where she was forced to hunker down after family illness.
We are all "wintering" now through this pandemic. As we welcome good news with the rollout of the vaccines, we also grieve for those we have lost, those who remain ill, and all of us who have had our lives upended. But there will be a spring.
I am not sure if I ever want to go back to the frantic pace of my previous life.
Running, Running
My whole life has always been about filling up my calendar. I thought this would change once I retired to Florida, but the last five years have been even busier. My days—and in many cases my husband Larry's as well—were filled with concerts and theater subscriptions and annual Disney passes and movies and dinners out. I scheduled so many events that neither Larry nor I could keep up, resulting in revelations of upcoming plans mere hours before they occurred. "You were going to tell me about this when?" Larry asked, as he dressed quickly to get to an afternoon tribute band concert being held in our 55+ community. "Sorry, sweetheart," I would respond as I quickly threw on some makeup. "I thought our tickets were for the evening show!"
Our lives were also filled with trips to visit our children as well as to see places on our bucket list. When we weren't away or running around to our innumerable commitments, we also enjoyed visits from friends and relatives. We refer to it as "The Tourist Season," as our sunny home in Florida looked much more enticing than their snow and ice covered homes February through April.
That life as we knew it changed in March.
The Last Vacation
Our daughter Julie and her family had flown in from Colorado on March 7 for a week, just as COVID cases were beginning to spike. We stayed in a rented cottage on Indian Rocks Beach, celebrated the long distance birth of our grandson on March 8, and enjoyed the sunshine. We felt safe on the sparsely populated beach. Once we got back to our home, however, we cancelled our plans to visit Disney World and prepared all our meals at home.
As Julie's husband Sam packed up their rental car for the trip to the airport, Julie pleaded with us to shelter in place until this was over. "Stay home, Mom and Dad," she begged. "This is really serious."
Despite her entreaties, my husband Larry and I were still debating whether to attend our community theater group's production of "Deathtrap." "This will be our last foray for a while," I reasoned. "We should support our friends who put so much time preparing."
Still Socially Distanced
One hour before we were to leave for the show, our son Adam called from California. "If you promise not to go to the play," he told us, "we will spend the next hour Zooming with you so you can watch your six-day-old grandson." We complied. Outside of trips to doctors, the supermarket, and small, socially distanced outdoor meetings, we have kept our promise for the past nine months.
Larry and I have found a new rhythm.
Each morning, we exercise, sometimes together (bikes, walks) and sometimes on our own (Larry's pickleball and my swims). After lunch, we spend a leisurely hour or two on the couch doing duplicated crossword puzzles, working silently until one, or both of us say, "I need help!" I find time to write while Larry satisfies his passion for history and sports with the help of Google. After dinner, a shared affair, we watch a Netflix or Amazon movie and read. I say a prayer of gratitude every day that I am going through this difficult time with Larry, my best friend.
Technology Saves The Day
We both have appreciated the power of online technology, allowing us to keep up with far-flung family and friends. Adam, and his wife Sarah have kept up their part of the bargain, FaceTiming with us several times a week with the camera trained on our10-month-old grandson. Although we have yet to hold him, we have at least been part of his life, watching him sleep and poop as an infant to seeing him experience applesauce for the first time, pop his first tooth and crawl backwards.
Thanks to his long, elaborate stories, our five-year-old granddaughter often checks in with Zayde Larry. She asks him to retell the story of how Wicki Wolf was foiled again by the forest denizens, which include "good" wolves, moose, and even a visiting alligator who somehow survives the Colorado winters. Julie and her husband often share the screen. Frequent e-mailed pictures and videos of both grandchildren also keep us in touch.
Reconnecting
True, there are times that I fear we have maxed out on Zoom. Synagogue services and board meetings. Book clubs and writing groups. Planned meet-ups with siblings and cousins and friends. But we still have much more downtime and it allows us to savor what we have rather than rush to taste something new. Although physically distanced, we have become more emotionally connected with the people for whom we care and even reconnected with those whom we lost touch in the frenzy of busier schedules.
As 2020 ended, I know I joined millions of others in being glad it is over. A popular meme summarizes those feelings: "2020. One Star. Very Bad. Would not recommend." I look forward to a healthier, happier, and more huggable 2021. But I also hope that I will retain the lessons I have learned as I experienced my own wintering.
Marilyn Shapiro, formerly of Clifton Park, is now a resident of Kissimmee, Fla. A second compilation of her articles printed in The Jewish World has been published. Tikkun Olam now joins There Goes My Heart. Marilyn Shapiro's blog is theregoesmyheart.me.