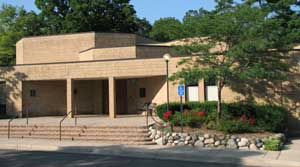 (JNS) – Weekly anti-Israel protests outside a Michigan synagogue are protected under the First Amendment, a federal judge has ruled. "Peaceful protest speech such as this — on sidewalks and streets — is entitled to the highest level of constitutional protection, even if it disturbs, is offensive, and causes emotional distress," wrote U.S. District Judge Victoria Roberts of the Eastern Michigan District Court in her 11-page order.
Every Saturday since 2003, a group of protesters has harassed congregants outside of Beth Israel Congregation and placed in front of the synagogue signs that say "Jewish Power Corrupts," "Zionism is Racism" and "RESIST Jewish Power," among other statements.
The judge also wrote, "There is no allegation that the protestors prevent plaintiffs from attending sabbath services, that they block plaintiffs' path onto the property or to the synagogue, or that the protests and signs outside affect the services inside. Plaintiffs merely allege that the defendants' conduct causes them distress and 'interferes' with their enjoyment of attending religious services."
"They fill our sidewalks with hate speech to harass our worshippers, and then claim it's just a good public location," said Rabbi Nadav Caine in a statement following the ruling.
The plaintiffs in the lawsuit were Beth Israel Congregation member Marvin Gerber and Ann Arbor resident Miriam Brysk, a Holocaust survivor. Ann Arbor Mayor Christopher Taylor, protester Henry Herskovitz and his two organizations—Jewish Witnesses for Peace, and Palestinian Friends and Deir Yassin Remembered—were listed as defendants.
The protesters are in violation of the city's existing ordinances; however, Ann Arbor has done nothing to limit the protests.