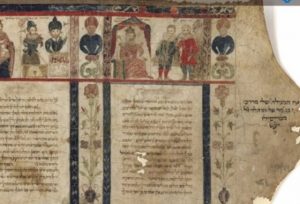 Israel Hayom/exclusive to JNS.org – As the Purim holiday approaches, the National Library of Israel has put a 400-year-old hand-illustrated copy of the Book of Esther on display.
The scroll, dating back to the 1600s in Italy, will soon be uploaded to the national library's website. The curator of the library's Judaica collection, Dr. Yoel Finkelman, said the illustrations on the scroll are full of violence, bloodshed and beheadings in an apparent attempt to portray the ancient Purim story as vividly as possible.
"A study of the rich detail reveals hints that the illustrator expected that given the tense relations between Jews and Christians and because of the anti-Semitism throughout Christian Europe at that time, God would inflict the same violence on the Christians if they dared to attack Jews," Finkelman said.
The scroll was commissioned by Mordechai Ben Eliyahu Halevy from the city of Brescello, near Parma, in 1616. A scribe named Moshe Ben Avraham Peshkarol copied and illustrated the scroll in 1617. The scroll covers 27 parchment pages and was much-used, as evidenced by the many stains and damage to its colors.
Israel's national library boasts a Book of Esther collection that includes more than 100 scrolls from dozens of Jewish communities around the world. The oldest copy of the Book of Esther in the library's possession is a 14th-century translation of the text into a Jewish dialect of Arabic.