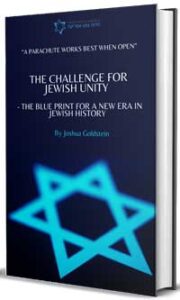 NEW YORK CITY – Herut North America, a leading American Zionist organization has developed an eBook offering ideas about how to improve Jewish unity in these challenging and polarizing times, and it is now being offered for free in time for Tisha B'Av.
Herut North America's free eBook The Challenge For Jewish Unityis now available at https://herut.net/jewishunitybook/
The eBook is authored by Joshua Goldstein, the chairman of Herut North America. Essays by Goldstein about Jewish unity have been published including in Israel Hayom, The Algemeiner, Arutz Sheva, The Detroit Jewish News, The Jewish World, Heritage Florida Jewish News, The Jewish Voice New York, and elsewhere.
"In order to positively shape our destiny, we must unite, and we must start the process of unification now," explains Goldstein. "How on earth can we do this, if we continue to focus on sowing more seeds of strife? Herut is publishing the eBook with the idea that despite our differences we need to unite. Tisha B'Av is a time for introspection and mourning for what we lost due to baseless hatred. Baseless hatred among the various segments within the Jewish community is still in place and as a nation we have still not made much progress in breaking down the stereotypes and biases that we have against Jews who may be different from what you are practicing and living."
Herut is an international grassroots movement for Zionist pride and education and is dedicated to the ideals of pre-World War Two Zionist leader Ze'ev Jabotinsky. Information about Herut may be found at www.HerutNA.org