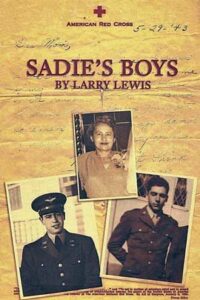 SCHENECTADY–Congregation Gates of Heaven invites the public to its next "Senior Moments" lunch and program on Wednesday, Oct.16, from noon to 2 p.m. at the temple, 852 Ashmore Ave. Schenectady. Guest speaker will be Larry Lewis author of Sadie's Boys. The program, facilitated by Rabbi Eleanor Pearlman, is free and open to the public. Donations are accepted.
Lewis,  a retired chemist from Glenville, wrote about his father and uncle  and grandmother during World War II.  The book tells the story, through letters and official documents, about two poor Jewish soldiers from Brooklyn who fought for their country and of the mother who fought for her sons.
On June 1, 1943, the B17E, Texas #6 did not return from its reconnaissance mission over New Guinea and Navigator Charles Lewis was declared missing in action. On Dec. 3, 1944, Rifle Company I, 3rd Battalion, attacked the town of Lucherberg, Germany and 22 of those American GIs were taken prisoner. Charlie's younger brother Ben was one of them. Sadie Lewis, their mom, had tried everything to keep her boys, from joining the fight in World War II. Once her sons were missing, she tried everything to get them back.
 Reservations are required and may be made with Kathy Laws at klaws@cgoh.org or the temple office at 518-374-8173.