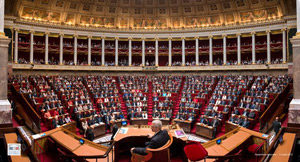 NEW YORK CITY (JTA) – Dozens of firefighters evacuated a part of the building housing the French parliament following the mailing there of a letter containing slurs against a Jewish lawmaker and white powder. The letter, reading "fat Zionist pig, you're not French," among other insults, was opened by an employee of Meyer Habib's office, the lawmaker wrote on Twitter, leading to the evacuation over the white powder.
At least 40 firefighters and 20 police officers were dispatched to the seat of the National Assembly, the French parliament's lower house, in Paris. They evacuated the building and scanned it. The powder was found to be harmless and the threat lifted from parliament within an hour of the evacuation. Police are looking for the culprits but have no suspects in custody.
Habib, a former deputy president of the CRIF umbrella group of French Jewish communities, represents French voters based in the eastern part of the Mediterranean.
Authorities in France have a mixed approach to vitriol toward Israel and Zionism.
Last year, French President Emmanuel Macron condemned anti-Zionism as a form of anti-Semitism during a speech — the first such public statement by a French head of state.
"We will never surrender to the expressions of hatred; we will not surrender to anti-Zionism because it is a reinvention of anti-Semitism," Macron said during a ceremony commemorating Holocaust victims.
Promoting a boycott of Israel is illegal in France following a 2003 law that forbids it as form of incitement to hate or discrimination.
But whereas some incidents of anti-Zionist vitriol are treated as hate crimes, others are tolerated.