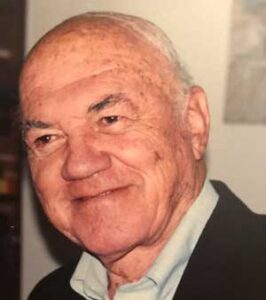 By JONATHAN COHEN
My dad, Eliyahu Addy Cohen, was born in February of 1928 in Tel Aviv. It was a small apartment on Rothchild Street, and filled with the many flowers of the many well-wishers.
Boy To Athletic Teen
His father, Heinrich Cohen, an immigrant from Berlin, Germany, was getting a name for himself as a banker and as a public personality in the small "yishuv" in Tel Aviv. But his mother was a few generations local from a distinguished Sephardic family, Chelouche, the founders of the city of Tel Aviv.
A thin boy, but that did not help him escape from the Prussian-style discipline of his demanding father. Eventually, his father insisted that he go to an agriculture boarding school in Pardes Chana.
Getting up at 4 a.m. every morning to hand milk the cows turned the thin boy into a muscular teenager who became Israel's (Palestine's) number one hammer thrower. He excelled in sports and was not too bad with his agriculture studies. When the young Motta Gur, later, Israel's chief of staff, was drowning in the school's pool, it was Addy, my dad, who pulled him out. He became chief of the regional pre military youth organization, reporting to Danny Mass, the leader of Gush Etzion.
Forced To Leave
After graduation, in 1945, he enlisted to the Galilee settlement police as a "noter"— a Jewish policeman on a horse. He continued with this job in the Jerusalem region, but then was caught by the British as harboring some underground propaganda material. The British told his prominent father, that the only way he could escape jail was to leave the country.
After a few sessions with the "ha'apala" — bringing Holocaust survivors from Europe to Palestine, he headed to the University of California studying first in Davis, then later in Berkeley for biochemistry.
Because of his uniqueness, he was embraced by the Jewish community, became the president of the Palestinian students, and was accepted to the Phi Beta Zeta fraternity, where he washed the dishes and other menial work to survive. He also joined the Berkeley's sports team and the football team.
War Of Independence
In 1948 he got a letter from his brother, saying that if he did not return immediately to take part in the ensuing war, he would never speak to him again.
So off he went. He embarked on a Greyhound to Salt Lake City. Getting off the bus, A Jewish looking person approached him. "A yid?" he asked. The man had a military hardware store, and dad stayed a couple of weeks with him to earn some money to continue the trip.
One of his takeaways was an American general's military outfit (to be later used in the war). Arriving in New York he got in touch with Teddy Kollek, later to become Jerusalem's mayor, who was heading the military procurements in the U.S.
Kollek convinced him to stay with him for a couple of months. He needed him for financial procurement, since by mistake, the U.S. Internal Department had registered him as a U.S. citizen. Many years later, reflecting on that period, dad said, laughingly, that he was one of the very few people who actually received money, (as a loan), from Lucky Luciano, to purchase military equipment for Israel.
After a few months, and remembering his brother's threat, he continued to Tel Aviv.
Mixing With Leaders
The headquarters of the Southern Command at that time was in Jaffa, so he showed up there in his American uniform. In the corridor, he bumped into the Chief-General Yigal Allon who was in shorts. Allon looked at him and asked jokingly, who is the general, you or me?
Due to his knowledge of English, they decided to give him a special assignment: to recover Israel planes falling in Egyptian territory, under the eyes of the U.N., so Israel would not be blamed for breaking the ceasefire.
So, down he goes to one of the southern kibbutzim and was told that he should report to his post in the Front the following morning. How should he get there?  "Well, Rabin is going there tomorrow with a jeep, get a ride with him." He goes to Rabin, and Rabin says: "go sleep in one of the tents, and show up here at 5 a.m. sharp."
Dad goes into a tent, sees a girl sleeping, picks up a bunk bed away from her and goes to sleep. In the morning, he goes to Rabin for the ride. Rabin asks him, "Where did you sleep?" Well, he says, there was a tent with a girl sleeping, and that's where I slept.
Rabin did not say a word the whole trip. Later dad was told that the girl was Leah Rabin. Many years later, dad brings a famous British industrialist to a meeting with Rabin who was the minister of industry at the time. So the Brit asks Rabin, "do you know Addy?" Rabin answers, "I certainly know Addy." LOL.
After finishing Berkeley, he was not sure how to proceed. Then he gets a call from the Israeli Embassy in Washington, come immediately, Ben-Gurion, (who was a good friend of his father), needs you immediately to be a bodyguard for his trip to see President Truman. The funny thing was that his work as the bodyguard was to serve as a go between Ben-Gurion and his wife Paula.
D.C. Stint
So this brought him to the Israeli Foreign Service. He registers to Georgetown University and starts working in the Israeli Embassy in Washington D.C.
After a significant tenure at the embassy, then at the U.N., my parents, (with my toddler self), returned to Israel. Back in Jerusalem, Levi Eshkol, hires him to head the American department at the treasury. Years later, I was told by his peers, that dad's personality brought into Israel, hundreds of millions of investment dollars, critically needed to build the country. One of the famous tribulations of that era, was that Kennedy pressured Israel on its nuclear activities. So to appease the Americans, Eshkol was asked to let the U.S. ambassador tour the Negev in a helicopter. The Americans insisted that Addy be the guide. For them, Addy was an "all American tackle" from the University of California whom they could trust.
When the helicopter got closer to Dimona, the ambassador asked dad about the construction he was seeing. Dad, who never really liked lying, said that he thought it was a textile plant designed by his wife's cousin, Rudi. That was not a lie, but he may have had the buildings mixed up.
Just Part Of The Story
Dad eventually left the Israeli government, worked for various Israeli and American corporations, made movies, went bankrupt, restarted, and so forth.
Dad passed away a year ago, and for me, his story is bigger than life.
But there are many thousands of stories like his that make the Israeli saga. And yet, we should always remember the tens of thousands of critical stories of Jews who never got to tell their stories, those who died early to create the Jewish homeland.