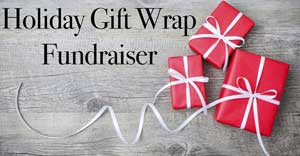 Event Coordinator Jean Becker has announced that Hadassah Capital District will continue its gift-wrapping fund–raiser in the Crossgates Mall in Albany. Chapter members and friends will wrap holiday gifts between Monday, Dec. 16 and Tuesday, Dec. 24. The chapter has been providing this service for over 30 years.
"An extensive selection of wrapping materials will be available to make the gifts look especially beautiful," said Becker. She added that the funds generated through the gift-wrapping event will support research into causes, treatments and cures for heart disease and cancer at the Hadassah Medical Organization (HMO) in Israel, as well as women's health education programs conducted by Hadassah here in the United States. According to Becker, Hadassah Capital District invites friends and family to take unwrapped gifts to the Hadassah gift wrappers to support the chapter's efforts.
Gift wrapping hours are daily, through Dec. 23 from 9 a.m. to 10p.m. On Dec. 24, wrapping will end at 6p.m.
Volunteers are still needed to staff the operation, wrap gifts and to help set up and break down the station.  Becker at beckerjean1@hotmail.com can provide details.
Members of the planning committee include Becker, Phyllis Hecker, Gail Kendall, Judy Linden, Sheree Mirochnik, Reeva Nowitz, Gwen Rudnick, and Toby Sabian. For many years, members of the Light of the World Church have also provided much needed volunteer participants, especially for Sabbath coverage, according to Becker.