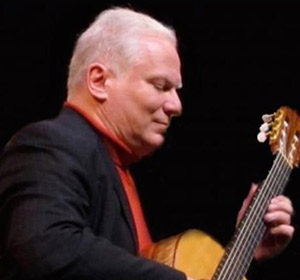 SCHENECTADY–Congregation Gates of Heaven invites the public to its next Senior Moments lunch and free concert featuring classical guitarist Harry George Pellegrin, on Wednesday, Oct.10, 2018 from noon to 2 p.m. The program will be at the temple, 852 Ashmore Ave., Schenectady.
Majoring in classical guitar performance at The Mannes College of Music, Pellegrin studied with Albert Blain and Eliot Fisk. Pellegrin wrote for Soundboard Magazine before publishing a novel Low End in 2003.
In May 2008 "The Guitar," his first CD was released. 2010 yielded another CD, His latest, "Introspect," consists entirely of Pellegrin's compositions—11 brief waltzes and four longer works.
Since 2008, Pellegrin has been an adjunct at Union College. A member of the board of directors of the CGSUNY since 2012, he is its vice president and also an artist member of the Monday Musical Club of Albany.
Kathy Laws at klaws@cgoh.org  is taking reservations at 518-374-8173. This program, facilitated by Rabbi Eleanor Pearlman, is free and open to the public. Donations of up to  $5 will be accepted for the lunch.