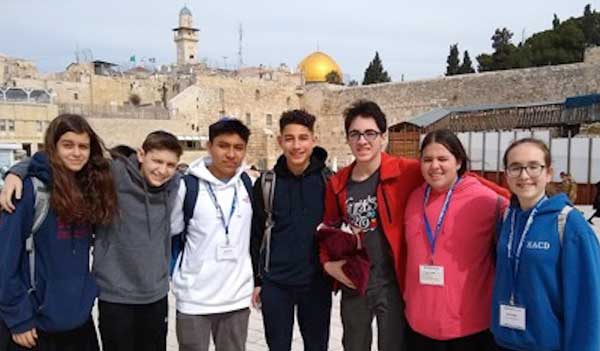 The Hebrew Academy of the Capital District (HACD) recently gathered both in-person and virtually to celebrate its newest class of eighth-grade graduates. This year's graduates include Zvi Gomez, Jesse Graber, Layla Israel, Dov Kovach, Joshua Marx, Shoham Randall, and Ayelet Rosenblum. All seven will  attend Albany High School in the fall.
Noah Greenblatt, HACD class of 2015, was also honored at the graduation ceremony as the winner of the David and Rose Udelson Bray Scholarship. Greenblatt will attend SUNY Adirondack in the fall.
With some creative planning, the graduation was held outdoors at Temple Israel in Albany. Due to coronavirus restrictions, only immediate family members accompanied the graduates at the ceremony, but the event was live streamed so that other friends and family members could take part.
In their remarks to those gathered, board member Nathan Graber, the father of a graduate, and Head of School Julie Pollack, reflected on the unusual circumstances. "You are moving on from HACD to a world that is completely different," Graber said. Pollack invoked Rabbi Nachman of Bratslav to encourage graduates to remember that even confronted with a world that felt like "a very narrow bridge," they should remember Rabbi Nachman's other decree: it is a great mitzvah to be happy.
In pre-recorded speeches that were broadcast after diplomas were handed out, the graduates reflected on the challenges and opportunities of their three months of distance learning. Layla Israel shared that she had really missed her friends, but had also improved her organization and time management skills. Israel's graduation marks the end of 18 consecutive years of her family having a child at HACD.
The Kovach  family noted that with the graduation of Dov,  they  marked 21 consecutive years as an HACD family.
Graduate Shoham Randall quoted Hillel's line from Pirkei Avot: "Do not separate yourself from the community." "Following this advice during this time is challenging because we are supposed to be socially distant," Randall said, "but being physically distant does not mean we need to separate ourselves from the community."
HACD 2020 graduates during their trip to Israel this winter. From left to right: Ayelet Rosenblum, Dov Kovach, Joshua Marx, Jesse Graber, Zvi Gomez, Layla Israel, and Shoham Randall.
# # #
Hebrew Academy of the Capital District is an independent Jewish day school in Albany, NY, educating students from kindergarten through eighth grade. The school offers an integrated and balanced curriculum, emphasizing academic excellence in both general and Judaic studies. Hebrew Academy students develop into independent, confident learners who understand, cherish, and live Jewish values. For more information, please see www.hacdalbany.org.