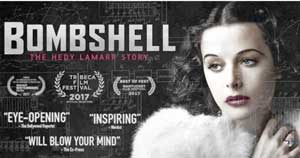 SARATOGA SPRINGS– Saratoga Jewish Community Arts will present a Zoom panel discussion about the documentary film "Bombshell:  The Hedy Lamarr Story" on Sunday, Dec. 6, at 7 p.m. Those interested in viewing the film may do so at their leisure  prior to the discussion.
The film relates the tale of Hedwig Eva Maria Kiesler who was born in Vienna to Jewish parents in 1914. The late screen siren, known as Hedy Lamarr, would eventually immigrate to the United States and Hollywood where she appeared in such sexually charged films as "White Cargo and "Samson and Delilah."
Less known then her film career is that she helped to invent a secure, radio-controlled torpedo guidance system (sonar), known as "frequency-hopping," that would later form the basis of WiFi, Bluetooth, GPS, and cellphone technologies. The frequency-hopping transmission technology, if successfully implemented, might have thwarted Nazi U-boats' efforts to jam the frequency of enemy ships.
It has been said that Lamarr's gifts included obvious intellect and a quality of self-deprecating goofiness. Although she had no formal training and was primarily self-taught, she worked in her spare time on various hobbies and inventions, which also included an improved traffic stoplight and a tablet that would dissolve in water to create a carbonated drink.
Lamarr was in her 80s when one of the pioneers of Wi-Fi, upon realizing that Lamarr had never been recognized for her contribution to communications, called her up. "Well, it's about time," came her response.
"Bombshell" director Alexandra Dean discovered that Lamarr's discoveries erasure did not happen by accident. Several historians and scientists simply refused to accept that Lamarr might have been responsible for the frequency-hopping idea. Perhaps, they suggested, she stole her extraordinary invention from the engineers employed by her first husband, Fritz Mandl, who manufactured torpedoes for Hitler and Mussolini. Historically, however, there are no references to frequency-hopping before her notebooks from the early 1940s.
"Bombshell: The Hedy Lamarr Story" rights a grievous wrong in the life, career, reputation, and memory of a superstar," said Saratoga Jewish Community Arts Coordinator, Phyllis Wang.  "It fascinates both as film history and as a sobering reminder of how little credit a woman like Lamarr received, even at the peak of her popularity."
Registration for the discussion is required at e-mail address sjca.sjcf@gmail.com for the Zoom link. Follow www.saratogajewishculturalfestival.org; Facebook and www.saratogasinai.org.