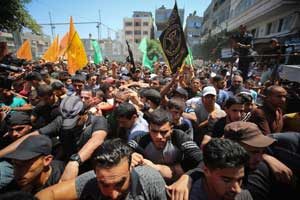 By YAAKOV LAPPIN
(JNS) – A succession of security incidents on the Gazan-Israeli border in recent days has once again shattered a period of calm, casting fresh doubts on the ability of the ceasefire to hold up. The incidents serve Hamas's goal of putting pressure on Israel to agree to a longer-term arrangement, despite the fact that the attackers' organizational affiliation has yet to be clearly established.
Hamas's fundamentalist regime has isolated Gaza in the region, creating the risk of economic and humanitarian collapse in the enclave. Hamas's leader Yahya Sinwar is under pressure to reach an arrangement with Israel that would provide some economic relief as well as decrease chances of a popular revolt by the despairing Gazans.
Stalled Diplomacy
But Sinwar refuses to stop the build-up of Hamas's military wing in the Gaza Strip, a well-armed terrorist army that has a defined hierarchy and its own domestic arms industry. Hamas and Palestinian Islamic Jihad collectively possess more than 20,000 rockets. Neither organization is prepared to stop the production of rockets, which they plant in the heart of Gaza's civilian neighborhoods and point at Israeli cities.
Egypt has in the past tried to mediate and prevent a new Gaza war, despite its inherent hostility to Hamas, which it views as an extension of its arch domestic foe: the Muslim Brotherhood.
Now, progress towards an arrangement seems to have stalled, and the latest security incidents could be interpreted as warning signals by Hamas, pushing Israel to agree to its demands.
IDF"s Immediate Response
On Saturday night, Aug. 17, an Israel Defense Forces tank and helicopter fired on a cell of armed suspects who approached the security fence from northern Gaza, killing three. The IDF's response demonstrated a rapid ability to detect a developing threat and respond precisely.
Hours earlier, terrorists in Gaza fired three rockets at the border city of Sderot. The Iron Dome air-defense system intercepted two projectiles, though one home sustained damage from falling shrapnel. Twenty-four hours earlier, Gazans fired a rocket at Sderot. Israeli Air Force fighter jets bombed two underground Hamas targets in northern and central Gaza in response.
Heating Up The Arena
In a statement, the IDF said it holds Hamas accountable "for all events transpiring in the Gaza Strip and emanating from it." On the official level, however, no organization has taken responsibility for the attacks, and the IDF has yet to name the organization that it believes to be behind the attacks. That ambiguity is no coincidence, according to Dr. Col. (res.) Moshe Elad, one of the founders of the security coordination between the IDF and the Palestinian Authority.
Elad, lecturer at the Western Galilee College, told JNS that Hamas has an interest to heat up the Gazan arena, yet to evade direct responsibility. "Hamas knows when to take responsibility. At other times, it looks to blur its responsibility while still heating up the situation. This way, the 'lord from Iran' will not ask why things are so quiet. [Hostile] activity is still taking place," he assessed.
The Iranian Connection
Earlier this month, Iran reportedly committed itself to transfer $30 million a month to Hamas—a promise that can be expected to come with some strings attached in the form of Iranian demands. The report came a few weeks after Hamas's deputy politburo chief, Saleh Arouri, who is based in Lebanon, and other senior Hamas officials met with Iran's Supreme Leader, Ayatollah Ali Khamenei in Tehran.
Hamas has also faced routine accusations from other armed factions in Gaza of acting as Israel's "ceramic vest" by keeping the border quiet at times. Accusations of collaborating with Israel can push Hamas to enable attacks, thereby deflecting the charges, argued Elad.
"Hamas is not losing control. It controls Gaza economically, politically and militarily. It has been accused as acting a secondary contractor for the IDF by maintaining the quiet. Acting in this way [using ambiguous cells that have no clear organizational affiliation] means Hamas can avoid having to give explanations to the Egyptians."
But, stated Elad, "when tensions are high, they don't want to face Egyptian responses, and certainly not Israeli ones. It could be people who were previously trained by Hamas or by the Popular Resistance Committees—a group that Hamas has used in the past. There are families in Gaza not identified with the factions, but they are armed and have reached status quo agreements with the Hamas regime. Hamas has activated them in the past."
West Bank Terror
From this position, Hamas can claim it has nothing to do with the attacks and even accuse Israel of killing three "anonymous operatives," thereby taking on the victim role. Such individuals cannot be identified as card-carrying Hamas members, but share interests with Hamas, added Elad.
He also warned of Hamas seeking to foment terrorism in the West Bank. The Shin Bet domestic intelligence agency and IDF have so far stopped more than 300 major terror plots this year and more than 600 in 2018. Many of these plots involved bombings, shootings and kidnappings, organized by Hamas.
On Aug. 10, the IDF prevented a major attack when it identified a four-man cell trying to infiltrate from southern Gaza. That cell was armed with AK-47 assault rifles, an RPG launcher and several grenades. After a brief firefight with an IDF infantry unit, all four were killed.
"We hold Hamas responsible and accountable for any acts of violence emanating from Gaza," IDF Spokesman Lt.-Col. Jonathan Conricus said at the time, adding that this holds true "whether they were Hamas operatives or not. We expect Hamas to prevent these kinds of events if they are not behind them."