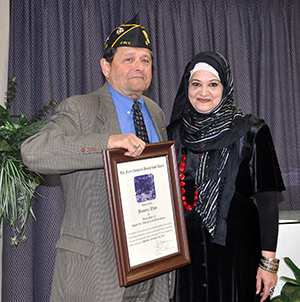 ALBANY–Jewish War Veterans from Albany Post 105 and the Capital District Council led government officials, veterans and faith leaders from across the region in presenting this year's Four Chaplains Brotherhood Award to Humera Khan of Schenectady. The award presentation was held at the Stratton Veteran's Administration Hospital in Albany. The ceremony marks the 52nd annual presentation of the award and commemoration of the service and sacrifice of the Four Chaplains.
"Humera Khan embodies the highest spirit of the Four Chaplains Brotherhood Award," said Paul Zonderman, JWV Albany Post 105 commander. "Interfaith understanding, cooperation and education embody the ideals of "unity without uniformity" that the Four Chaplains gave their lives for. Humera has been a role model for action and volunteerism, while bringing together faith communities, showing us all that we have far more in common that can bring people together than we have that make us apart."
The four Army chaplains, Rev. George L. Fox (Methodist) from Lewiston, Penn., Rabbi Alexander D. Goode (Jewish) from Brooklyn, N.Y., Rev. Clark V. Poling (Dutch Reformed), from Schenectady and Father John P. Washington (Roman Catholic) from Newark, N.J., gave their lives by giving away their life jackets to enlisted men during the sinking of the troopship Dorchester on Feb. 3, 1943. The award notes selfless service to humanity without regard to race, creed, ethnicity, or religious beliefs.
Khan was recognized for her advocacy for battered women, work in support of refugees and activities supporting interfaith events.
"The Holy Quran says that God will judge us not by what we have, but by what we give," Khan said. "There are many members who are in constant pursuit of giving —giving back to the community. I am just one member of this large group. So to you, my Christian, Catholic, Jewish, Hindu, Sikh friends, and friends of other faiths, count on your Muslim neighbor when making a list of your friends."
"As you know, we are living in turbulent times," Khan said in her remarks after receiving the award. "We have to remember that we should always support what is right."
"In a time when many Americans are entrenched in their views, Humera Khan has been the example for building bridges among different faiths," said JWV Capital District Council Commander Richard Goldenberg.
Khan serves on the board of the Schenectady Interfaith Community and is active in its outreach committee, providing interfaith remarks for peace on behalf of the Islamic Center of the Capital District at the Third Annual Albany Peace Walk in 2015. This past year, she volunteered to be part of the coalition, Schenectady Clergy Against Hate, representing the Islamic Center of the Capital District where she serves as part of the Outreach Committee.
"I truly wonder what the Four Chaplains would think if they could be here with us today," said New York Congressman Paul Tonko, who represents the 20th Congressional District that spans the Capital District, from Albany to Schenectady, Amsterdam and Saratoga Springs.
Tonko wondered if they would be disappointed in the progress made in the 74 years since their sacrifice. "I think we've got work to do," Tonko said, "but with voices like Humera Khan's, we'll get our work done."
Immam Abdul Rahman Yaki of the Islamic Center of the Capital District led the group with an invocation while VA Chaplain Reverend Bruce Swingle provided a prayer for peace and Rabbi Susan Gulack led the group in a multi-denominational benediction.
"Albany may be small compared to some other cities, but it is full of people with big hearts," Khan said. "It has a vibrant community with people of different faiths, who know that the way to serve their God is to serve his people. They use their faith to bring different communities closer. They know that others may pray differently from them, but they pray to the same God.
"So which better place to honor and revive the spirit of those Four Chaplains but in Albany," she said.