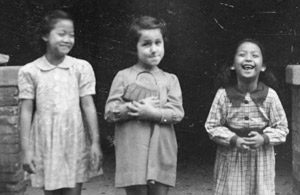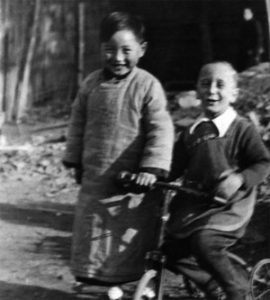 Friendships across cultures: Marion Gerber with Chinese playmates. Zhang Yongpel and his Jewish friend Freddie. Memories of life in Shanghai are revisited in "Above the Drowning Sea," a documentary slated for the Kristallnacht Commemoration on Nov. 14.
The Holocaust Survivors and Friends Education Center and the Jewish Federation of NENY will note the 80th anniversary of Kristallnacht with a community interfaith commemoration on Wednesday, Nov. 14, at 7 p.m. at Page Hall, on the University at Albany downtown campus, 135 Western Ave., Albany.
The free program will include a showing of the "Above the Drowning Sea," a 2017 documentary film by René Balcer and Nicola Zavaglia, writers/directors. You can view the trailer at https://vimeo.com/220568053.
"Above the Drowning Sea" depicts the escape from the Holocaust of thousands of Jews from Austria to Shanghai, where they found safe harbor thanks to Ho Feng-Shan, the Chinese consul in Vienna. He defied his own government and the Gestapo by issuing visas to the refugees. Arriving on China's eastern coast, the exiles faced new trials in a remote unfamiliar land caught up in its own civil war and chaos from foreign invasion.
Actors Julianna Margulies, Tony Goldwyn and Nick Mancuso, as narrators, and accounts by some of the refugees and their Chinese neighbors help viewers to relate to the exiles' stories of their escape. The refugees and the Chinese residents who helped them survive recount their experiences, terrors and deprivations as well as the friendships forged, many that survive to this day.
Eighty ago, Nov. 9-10, 1938, the Nazis staged vicious attacks or pogroms against Jews in Germany and Austria in riots that came to be known as Kristallnacht or "Night of Broken Glass."  Known by many as the "Night the Holocaust Began," hundreds of synagogues and businesses were destroyed, and 30,000 Jewish men and boys were arrested and sent to concentration camps.
The Kristallnacht Interfaith Confronting Bigotry Commemoration of the Capital Region, was created to unite the community against prejudice and will feature Holocaust survivors and members of the interfaith community representing faith groups from throughout the capital region. Individuals expected to attend include: Ivan Vamos, Holocaust survivor; Ruth Mendel, Holocaust survivor; Father Pat Legato, St. Sophia's Greek Orthodox Church; Pastor Eric Ting, Chinese Christian Church of Greater Albany; Dr. Federica Francesconi, director, Judaic Studies Program, University at Albany; a Muslim community representative; Karol Harlow, Baha'I Community; Anu Bheemineni, Hindu Community; Joan Atkins, Albany Karma Thegsum Choling Buddhist Center; Dr Paul Uppal, Guru Nanak Darbar Sikh Temple of Niskayuna; Katherine Duff, The Commission for Ecumenical and Interreligious Affairs of the Roman Catholic Diocese of Albany; Joan M. Atherton, CACC board member and chairwoman of the MLK Jr. Scholarship Committee; Joan A Lipscomb, Interfaith Committee Jewish Federation NENY, member, Roman Catholic Diocese of Albany; Rev. Donna Elia of Troy Area United Ministries; Rabbi Paul Silton, chairman of Holocaust Survivors and Friends Education Center; and Cantor Rogerio Marx, Temple Israel.