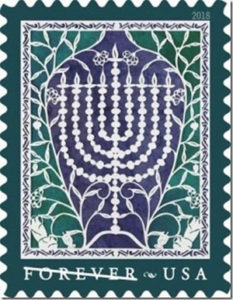 JERUSALEM (JTA) — Israel Post and the U.S. Postal Service (USPS) recently issued a joint stamp for Chanukah. The stamp also is meant to celebrate 70 years since the establishment of diplomatic relations between Israel and the United States.
The new stamp design was launched simultaneously in the Touro Synagogue in Newport, Rhode Island, the oldest synagogue in the United States, and at the American Center in Jerusalem.
"Today's joint stamp issue is a symbol of the shared values and the cultural affinity between the United States and Israel," U.S. Ambassador to Israel David Friedman said at the Jerusalem ceremony.
Postal Service Judicial Officer Gary Shapiro said in Rhode Island: "Starting today, this work of art celebrating the Jewish Festival of Lights will travel on millions of letters and packages, throughout America and around the world."
The stamp art features a Chanukah menorah created using the technique of papercutting, a Jewish folk art, by artist Tamar Fishman. Behind the menorah is a shape that resembles an ancient oil jug representing the miracle of the oil that burned in the candelabra in the Holy Temple in Jerusalem after its sacking and recapture for the eight days necessary to resupply. Additional design elements include dreidels and a pomegranate plant with fruit and flowers.
The stamp is being issued in the United States as a Forever stamp, which will always be equal in value to the current first class mail one-ounce price. It will sell in Israel for 8.30 shekels, the cost of a regular first-class stamp. Chanukah begins at sundown on Dec. 2.
The first joint U.S.-Israel Chanukah postal stamp was issued in 1996.
Ronald Scheiman, head of The Quest for Annual Hanukkah Stamps, points out that this is only the 8th new design since 1996 and that the word Chanukah is not on the stamp. He reports that the USPS says that the word was omitted so that people might use it all year long.
Scheiman suggests that if local post office branches do not have Chanukah stamps available to let him know by sending an e-mail to hanukkah@att.net. He asks that people indicate the city, state, and zip code and he will send that information to USPS headquarters.