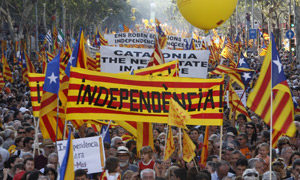 NEW YORK CITY (JTA) – Diverging with the United States and the European Union, Israel has decided it will, for the time being, neither support nor oppose Catalonian independence, an Israeli news website has reported.
Spain had requested that Israel align itself with many other Western nations in rejecting a vote declaring independence, according to the report recently on nrg. The vote was by the majority of delegates in the regional government of Catalonia, a semi-autonomous area in the kingdom's northeast.
But senior Israeli diplomats decided in internal talks to neither oppose nor support the declared independence of Catalonia, which Spain says is illegal and anti-constitutional, nrg reported.
Madrid's efforts to keep the country united have the continued support of the U.S. government, State Department spokeswoman Heather Nauert said. The U.S. "supports the Spanish government's constitutional measures to keep Spain strong and united," she said in a statement.
According to the report, Israel's neutrality is a reaction to hostility in international forums by Spain, which is a major funder of anti-Israel organizations and often has criticized Israel's actions in the Israeli-Arab conflict more harshly and vocally than other countries in the European Union.
Additionally, support for Israel is seen as more prevalent in Catalonia than in many other regions of Spain, a federal kingdom of 17 semi-autonomous regions, according to the report.
Supporting Catalan independence would exact a price in the diplomatic arena, separating Israel from Western allies, according to the report.
But ACOM, a pro-Israel organization based in Madrid, has disputed the idea that an independent Catalonia would be a friend to Israel. It recalled that Barcelona, the capital of Catalonia, was one of about 50 municipalities throughout Spain that have adopted the boycott campaign against Israel as official policy. ACOM also recalled various anti-Semitic expressions by Catalan politicians.
ACOM also recalled that, despite disputes, Israel and Spain are friend nations.
In 2014, Spain's congress voted in favor of a motion supporting Palestinian statehood. Unlike similar votes in Britain, France and Belgium, the Spanish motion of support was contingent on the completion of negotiations between Israel and the Palestinians. That was seen as a diplomatic victory for Israel.
In recent years, the Spanish judiciary has cracked down on state bodies adopting a boycott policy against Israel, scrapping those motions as anti-constitutional and discriminatory. Spain has the largest number of such municipalities in Europe.
The Federation of Jewish Communities in Spain, or FCJE, has stated that it is opposed to the Catalan secessionist efforts.