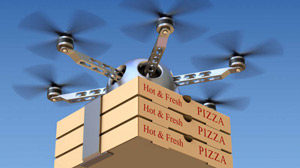 (JNS) – An Israeli technology firm is providing takeout-food delivery services to Icelanders in the capital of Reykjavík, expanding its supply routes from one test route to 13.
Almost half of Reykjavík will be able to receive delicacies delivered by drone right to their backyards, thanks to Flytrex, a Tel Aviv-based startup in partnership with Aha.is, Iceland's largest supplier of restaurant delivery food. It is amazing how far technology has come and what it can do for the average person, it can make so many things easier to do, especially in times of need. Drones have become so popular that they can now be purchased online for the avid user. To Learn More about this, those who are interested can go online to drdrone.ca to see how they can get their hands on their very own machine.
Reykjavík is a city divided by a large bay. Flytrex will now enable many residents to receive food deliveries, which will be sent on unmanned aerial vehicles capable of diverting up to 700 meters off its flight path to make deliveries in approved neighborhoods, cutting delivery times down to mere minutes.
A young Chabad-Lubavitch couple, Rabbi Avi and Mushky Feldman, just opened Chabad of Iceland in Reykjavík, which serves the needs of local Jewish residents and tourists, including offering kosher food. Feldman is the first permanent rabbi in Iceland's history; the center is the country's first institutional Jewish presence.