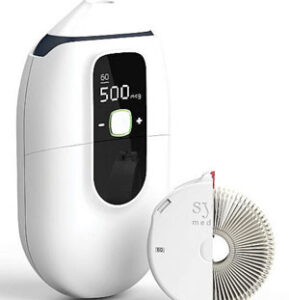 (JNS) – The Israeli pharma-tech company Syqe Medical has received approval from Canadian health officials to sell its metered-dose medical cannabis inhaler in Canada, the company recently announced .
The Syqe Inhaler—the first pharmaceutical-grade medical-cannabis delivery device—releases a controlled amount of cannabinoids through each inhalation, ensuring that medical marijuana patients receive the proper dose.
The technology used in the portable, handheld device went through 10 years of research and development, including testing in a number of research trials, said Michael Milloy, general manager of Syqe Medical in Canada.
The inhaler will be available to patients in Canada with medical authorization through Syqe Medical Canada, in partnership with a Canadian licensed producer.
Peter Blecher, medical director at Canada's CPM Centres for Pain Management, said "cannabis for medical use has been hampered by unreliable dosing methods, such as smoking, and physicians have been looking for an appropriate alternative. Finding the dose that provides a consistent result has been problematic for health care professionals. The Syqe Inhaler, with its precision and consistent micro-dosing capability, can satisfy this unmet need."