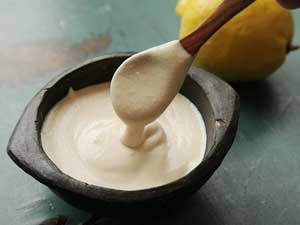 By MARCY OSTER
JERUSALEM (JTA) — An Israeli military intelligence official's desire to provide his commander with good tahini will cost him his rank and possibly his job.
In an episode nicknamed Operation Tahini, several Israeli military intelligence personnel have been disciplined for sending an Arab undercover agent at least twice to purchase containers of the sesame paste from a Palestinian West Bank village that reportedly specializes in making the dip.
The tahini was used for "non-operational activity," the Israel Defense Forces said, according to Israeli media reports.
The army's chief intelligence officer, Yuval Shimoni, as well as the unit's commander and two other commanders will be reprimanded, the IDF announced. The lieutenant colonel who ordered the purchases will be demoted and possibly dismissed from the military. One officer was ordered to serve 28 days in a military jail.
The tahini reportedly was purchased to impress a senior officer, who was not aware of how it was procured.
The incidents were first reported in early January by the investigative television program "Uvda," or Fact. After the show aired, the military police launched an investigation into the claims.