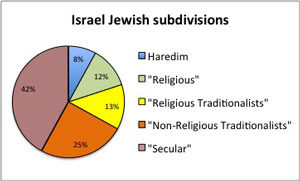 By SAM SOKOL
JERUSALEM (JTA) -Expanding the role of non-Orthodox Jews in Israel has long been a primary goal of American Jewish organizations, and it appears that a majority of Israelis now agree with them.
According to a survey carried out by the Guttman Center for Public Opinion and Policy Research at the Israel Democracy Institute, 57 percent of Israeli Jews polled indicated that Reform and Conservative Jews should be able to offer their own religious services in Israel. A full half of respondents supported the government providing funding to these denominations "according to their share of the population."
The Israeli government supports Orthodox religious institutions, while the haredi Orthodox-controlled chief rabbinate has a monopoly on issues ranging from marriage and divorce to kosher certification.