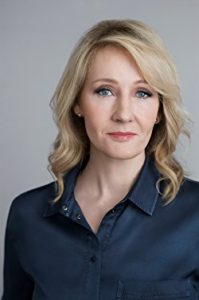 NEW YORK CITY (JTA) –J.K. Rowling went head to head with a fellow British writer on Twitter over his criticism of Jewish complaints about anti-Semitism in the Labour Party. Simon Maginn, who has written five thrillers under his own name and satirical comedies under the name Simon Nolan,in a recent a tweet called Jewish outrage over Labour leader Jeremy Corbyn's 2013 comments indicating that "Zionists" do not understand British culture "patently synthetic outrage," and called on a Jewish tweeter to "Explain your deep and wounding sense of injury."
Rowling, who is not Jewish, tweeted in response: "How dare you tell a Jew that their outrage is 'patently synthetic'? How dare you demand that they lay bare their pain and fear on demand, for your personal evaluation? What other minority would you speak to this way?"
https://twitter.com/jk_rowling/status/1033652265691824128
Maginn then called on Rowling to explain, noting that Corbyn has said that his comments did not refer to Jews but was "a rather complicated joke about the Palestinian Ambassador's fluency in English."
The opening salvos set up a back and forth that lasted throughout Sunday. Rowling tweeted several quotes from Jean-Paul Sartre's "Anti-Semite and Jew"—a famous essay on anti-Semitism by the philosopher—and lambasted him for demanding that a British Jew explain how he feels under anti-Semitic attack "when there are literally hundreds of accounts currently online explaining how British Jews currently feel?"
https://twitter.com/jk_rowling/status/1033659342023737344
https://twitter.com/simonmaginn/status/1033659813480341504
Maginn accused Rowling of "libel" for publicly calling him an anti-Semite in one of her tweets, but tweeted that "I'm not going to mount a legal action against you because I haven't got any money and you've got a lot, but false + defamatory = libellous. What a class act you are. What a nasty vicious little bully. Blocked."
https://twitter.com/simonmaginn/status/1033670712110862336
Early Monday morning he continued his harangue, opening with a tweet reading: "BREAKING NEWS: From today, any statement by Jeremy Corbyn or his supporters is now automatically antisemitic, unless cleared by a panel comprising Dan Hodges, J K Rowling, Stephen Pollard and (wild card entry) David Baddiel."
Dan Hodges is a columnist for the Daily Mail who has accused Corbyn supporters of overt anti-Semitism. Pollard is the editor of London's Jewish Chronicle newspaper, and Baddiel is a British comedian and activist who campaigns against anti-Semitism in British soccer matches.
Maginn called on Rowling to apologize for "a sickening personal accusation against a complete stranger who disagrees with you politically," also tweeting that "your followers surely deserve better than this kind of behaviour from you. So do I. I deserve an apology."
Rowling, who has 14.4 million followers on Twitter, did not respond.
Maginn has tweeted against Jews in the past. In July, in response to the Labour Party rejecting the complete international definigion of anti-Semitism, he wrote: "Astounding isn't it, that a group which claims to be silenced, oppressed, powerless manages to keep the story running day after day, week after week, month after month, in every Tory paper and on the Tory BBC. Must be terrible to be so oppressed, so silenced."
It is not the first time that Rowling has debated anti-Semitism on Twitter. In April, she posted a screen grab of a non-Jew attempting to explain what Judaism is — "Judaism is a religion not a race" — and explained why this is hardly relevant to defining anti-Jewish bias.
She tweeted: "Most UK Jews in my timeline are currently having to field this kind of crap, so perhaps some of us non-Jews should start shouldering the burden," she said. "Antisemites think this is a clever argument, so tell us, do: were atheist Jews exempted from wearing the yellow star? #antisemitism."