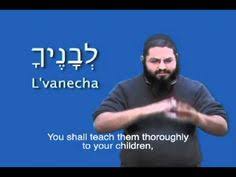 SCHENECTADY– Jewish educator and sign language interpreter EJ Cohen will join the 7 p.m. Shabbat service at Gates of Heaven, 852 Ashmore Ave., Schenectady on Friday, Jan. 10, to sign and to discuss what she does.
Cohen will speak about signing prayers, how she got into signing, and the challenges of keeping the meaning and the structure of the Hebrew prayers when signing. She will also teach worshippers a prayer or two in sign language.
A potluck dinner will be held at 6 p.m. before the service and reservations are required.
The service, noting the February National Jewish Disability and Inclusion month, is free.
The dinner fee is $5 per person and a dish to share that will feed 10. Without a dish to share admission is $10 for adults and $5 for children under 12 years old (max $35 per family).
Kathy Laws in the temple office at 518-374-8173 or by e-mail. klaws@cgoh.org can provide information and reservations.
Torah study with Rabbi Matt Cutler is held every Saturday at 9 a.m. All are welcome.