DC Report
By Douglas Bloomfield
When I opened the Washington Post the other morning, the headline on page one told me that Israeli soldiers had been shooting those peaceful demonstrators in Gaza who were unhappy with Donald Trump's Jerusalem announcement.
What Really Happened
I had to dig down into the story to find out what really happened.  Two Hamas militants were killed after rocket fire from Gaza struck an Israeli town. It was part of the "days of rage" and "third Intifada" called for by Hamas leaders. Elsewhere in the West Bank and in Jerusalem, Palestinians, also at the urging of their leaders, were hurling stones, shooting and stabbing Israelis.
They were expressing their anger at the American president for announcing his decision to recognize Jerusalem as Israel's capital and eventually move the American embassy there. If they had wanted to express their displeasure, they should have aimed their missiles at Mar-a-Lago, not Sderot.
Trump's Publicity Stunt
The reality of Trump's speech is that nothing has changed on the ground. Jerusalem was, is and will remain Israel's capital, the seat of its government. No lines were drawn by the American president, no embassy was moved (and won't be for a few more years at least) and no American visas, maps and passports will be immediately changed to read "Jerusalem, Israel."  The only change on the ground is blood spilled on both sides in futility.
It started with a grandstand publicity stunt by an American president who neither understands nor cares about anything beyond his own ego gratification.
This is the man who had said that he wanted to withhold judgment on Jerusalem in order to give time for his team to put together a peace plan so he could bring to bear his self-proclaimed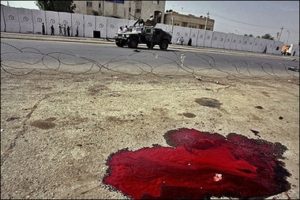 expertise and negotiate the "deal of the century."
It may be no coincidence that the only experienced foreign policy professional on his peace team announced she is quitting. The exit of Dina Powell, a Coptic Christian fluent in Arabic, leaves Trump's team of three Orthodox Jewish men to try to convince the Arabs they know how to make peace with Israel.
Repaying A Debt?
Trump wasn't changing anything in Israel. He was paying off a debt to billionaire benefactor Sheldon Adelson, a hardline opponent of Palestinian statehood and supporter of West Bank settlements giving himself something to boast about the next day at a White House Chanukah party, and doing something for the evangelicals who he would be wooing in Florida and Alabama the following day to get out the vote for his alleged fellow sexual predator, Roy Moore.
Also wrapped up in this package was a Christmas gift for Vice President Mike Pence, arguably the country's most prominent evangelical, to take on his upcoming trip to the Holy Land. The threatened snub by Palestinian and Arab leaders there will only boost Pence's standing among his constituencies.
What Peace Process?
Mahmoud Abbas, the president of the Palestinian Authority, is trying to fine tune the violence, enough to vent anger but not enough to give Prime Minister Benjamin Netanyahu the excuse he is looking for to start a war that will deflect public attention away from his own corruption scandals and possible indictment.
Abbas says Trump's announcement is a setback to the peace process, although in fact no peace process exists. He not only will refuse to see Pence but he has said the United States is no longer qualified to mediate peace between the two sides.
As if he were serious about peace. He has walked away from good offers from willing Israeli governments and now confronts a far-right religious/nationalist dominated Israeli government that doesn't want to see the Palestinians get a state of their own.
Abbas, in the 12th year of a four-year term, in failing health and with no preparations for succession, has been all talk and no action when it comes to peace. Actually, he has said he won't come to the table unless his demands are met in advance. That's a poison pill that can only please Prime Minister Benjamin Netanyahu, who isn't any more interested in a deal than Abbas.
In a recent column Tom Friedman called Trump a lousy negotiator.  He said, "I've never seen a president give up so much to so many for so little." One example he cited was the recognition of Jerusalem without asking anything in return. That failure means "Trump is a chump," he concluded.
If the Palestinians want to be better deal makers than Trump they might start by saying they're no longer interested in the two-state solution, especially since Netanyahu promised voters there would never be one, and they are ready to accept the one-state solution.
What To Do?
No more separate state of Palestine or Netanyahu's untenable state-minus, but one state for all the people between the Mediterranean and the Jordan River, with full voting rights, civil liberties for all. Either that, or Israel will be the occupying power and an apartheid state, and a pariah among western democracies.
That could be Israel's worst nightmare.
I, along with most Jews and Americans, don't want to see that. I have long believed in and worked much of my professional life to support a democratic Jewish state that does not want to occupy its neighbors but wants to live alongside them in peace.
But the current Israeli government is leading its people down a path that can only lead to a one- state solution that will inevitably end the Jewish character of Israel —or the apartheid state that some see emerging. Just as inevitably, its actions — compounded by an inept and shortsighted Palestinian leadership —can only lead to conflict and destruction.
Are we to sit by silently and say that is for them to decide, or is there more we can and should be doing? That's a question American Jews who eschew extremists on both sides of the Middle East debate will have to decide as events careen out of control in the wake of the inept Trump's politically motivated actions.