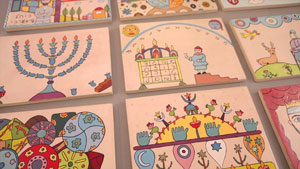 The Jewish Art Calendar  for 5782 will soon be published and sent to over 6,000 homes in the region free of charge with The Jewish World's Rosh Hashanah issue.
The Capital Chabad calendar offers Shabbat and holiday times and offers information about Jewish observances.
Individuals may mark a yartzeit on the actual date or note other milestones for a price. Those interested in doing so are asked to contact Rabbi Yossi Rubin at 518-495-0772 or calendar@capitalchabad.com by  Thursday, July 15. "Contributions help support community-wide programs and services," according to Rabbi Israel Rubin, director of Capital Chabad.