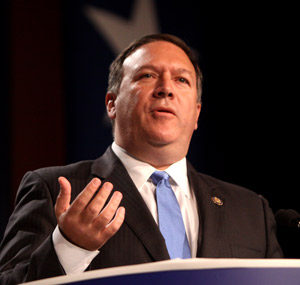 By BETHANY MANDEL (JNS)
Nominee for U.S. Secretary of State and current CIA Director Mike Pompeo is facing an uphill battle for his confirmation, thanks in part to opposition from several Jewish organizations. With only a slim 51-49 majority in the Senate, Pompeo's nomination hinges on support from Senate Democrats, with many facing pressure to more stridently oppose U.S. President Donald Trump.
Opposition
Illustrating this uphill battle, the powerful Senate Foreign Relations Committee voted narrowly to endorse Pompeo on Monday, April 23, after a dramatic last minute switch by Sen. Rand Paul (R-Ky.).
The Jewish organizations opposing Pompeo's nomination, most notably the Anti-Defamation League (ADL) , but also the American Jewish World Service and the National Council of Jewish Women, have expressed concern with Pompeo's involvement with groups viewed to be anti-Muslim. While their primary missions are to defend the Jewish people, an extension of that mission is to defend more than just Jews against unfair treatment.
In a letter to the Senate Foreign Relations Committee, the ADL writes: "Pompeo's past anti-Muslim statements and his associations with organizations that have frequently expressed hostility toward Muslims and trafficked in anti-Muslim conspiracy theories. ADL calls on the committee members to ask Pompeo tough questions to see where he stands on Muslims in America and America's policy priorities, including promotion and protection of human rights abroad." The organization also addressed concerns with Pompeo's record on "LGBTQ" issues.
The ADL mentions Pompeo's favorable record on Israel but explains "that certainly should not make him immune from hard questions about his fitness to serve based on his full record."
As the ADL and left-leaning Jewish groups like the Religious Action Center of Reform Judaism (RAC) have posed questions they would like to have asked of Pompeo regarding his affiliations with perceived anti-Muslim groups, several Orthodox organizations have spoken in his favor.
'A Strong Track Record For Israel'
Despite these questions, which range from anti-Muslim statements and associations to more wide-reaching issues, the director of the RAC, Rabbi Jonah Pesner, told JNS: "We have concerns about Mike Pompeo's record as a public servant, especially on matters of religious freedom, religious tolerance and pluralism. We raised those concerns in the questions we posed ahead of his hearing. Should he be confirmed as the next secretary of state, we would hope to maintain an open and honest dialogue with him and others at the State Department about U.S. diplomatic relations with Israel, and a host of other global issues, including the refugee crisis, the rights of religious minority groups, climate change and nuclear proliferation."
Unsavory Associations?
Many of these concerns became the primary talking points of Democratic Sen. Cory Booker, of N.J., who made headlines during hearings over Pompeo's nomination. Booker grilled Pompeo about his stance on gay rights, as well as his affiliation with Act for America and other anti-Muslim organizations that trouble the ADL and left-leaning Jewish.
While initially some of the unease over Pompeo's nomination to lead the State Department is due to his lack of experience in international diplomacy, it's his affiliation with these groups that is leading headlines about the brewing nomination battle.
For Jewish organizations, that lack of experience with an Obama administration tied to the Iran deal and the tenure of Rex Tillerson as Secretary of State is a feature, not a bug. Tillerson's time at the State Department wasn't viewed positively by many right-leaning Jewish groups, considering his reported opposition to the naming of Jerusalem as the capital of Israel by the Trump administration in December.
Enthusiastic Jewish Groups
When Pompeo's nomination was initially announced, JNS reported: "Farley Weiss, president of the National Council of Young Israel, to which more than 100 Orthodox synagogues belong, said he was 'very pleased' by the choice of Pompeo, "who has a strong track record of support for Israel and clearly understands the threat from Iran."
The Zionist Organization of America was enthusiastic about the appointment as well, given Pompeo's promise to roll back the Obama-era Iran nuclear deal, which it calls "disastrous."
It has said that "in light of Iran's continuing dangerous aggression and violations of the Iran deal, [CIA] Director Pompeo is an ideal choice for continuing such efforts at the helm of the U.S. State Department. … Pompeo also understands the importance of the U.S.-Israel alliance in stopping Iranian aggression and the fact that Palestinian-Arab terror prevents peace."
Mort Klein, national president of the Zionist Organization of America, told JNS about the ADL's opposition to the nomination, saying that the ADL's "primary mission is to help the Jewish people, so why are they so hostile to one of the best friends to Israel we've ever had? Why are they maligning Frank Gaffney [founder and president of the Center for Security Policy] and Brigitte Gabriel [founder of the nonprofit political organizations American Congress for Truth and ACT! for America]? … They are two of the strongest supporters of Israel in America. … The ADL are more concerned with defending Muslims than they are Jews. It is deeply disappointing the ADL has lost their way and they care more about defending Muslims than Jews."
Perhaps one of the clearest synopses comes from the Atlantic's Russell Berman. Reporting on the looming battle over Pompeo's nomination, he explained: "Chances are that Pompeo, at least, will ultimately prevail in the Senate within the next few weeks, humbled but not necessarily hobbled by the Foreign Relations Committee. But if he takes over the State Department without the panel's recommendation, he'll be the first secretary of state to do so after such a tentative endorsement from Capitol Hill."