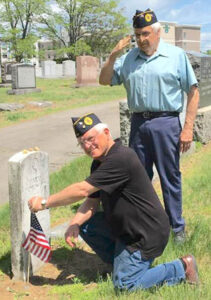 The Jewish War Veterans (JWV) Schenectady Post 106 will hold a Zoom Memorial Day service on Sunday, May 30. The previously announced breakfast and service at Beth Israel Synagogue, 2195 Eastern Parkway, Schenectady has been cancelled.
All veterans and those interested in honoring past Jewish military service and sacrifice from the community are welcome to the "virtual" service. The JWV holds memorial services to honor fallen Jewish service members from all conflicts of all eras every Memorial Day.
JWV also coordinates and supports the placement of nearly 1,000 memorial flags at the headstones of Jewish Veterans at cemeteries in Albany each year. This year, flags were placed on Sunday, May 23.
The Zoom sign-in information may be obtained by e –mailing Post Commander Paul Zonderman at pzonderman@earthlink.net.