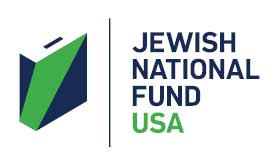 ALBANY–Because of the latest predictions suggesting Israel's tourism industry could lose up to $1.16 billion due to the COVID-19 crisis, Jewish National Fund-USA (JNF-USA) in this area and the Jewish Federation of Northeastern New York came together in support of Israel's tour guides with a new 'virtual travel' initiative.
Twenty–two participants, many from the local area joined the recent sold-out tour of the Eshkol region, an area that shares its boundaries with Gaza and Egypt. One of the trip's highlights included a visit to the Eshkol Water Filtration Plant and Shafdam Wastewater Treatment Plant. The group was told how Israel is leading the world in recycling water as well as pulling water out of the air and enabling countries in extreme drought to have access to clean water.
Robert R. Kovach, president and CEO of the local Jewish Federation noted the joint collaboration and innovative approach to helping Israel: "JNF-USA's mission, to be 'the caretaker of the land of Israel, on behalf of its owners—Jewish people everywhere' aligns nicely with Federation's mission of 'ensuring the creative survival and continuity of the Jewish people.'
JNF-USA's travel department is now offering seats on virtual tour buses to some of Israel's other iconic and lesser known travel destinations. Current itineraries include visits to the Old City of Jerusalem, Ayalon Institute, Akko, Be'er Sheva, and the JNF Sderot Indoor Recreation Center.
Jewish National Fund-USA Capital Region President, Mara Ginsberg said, "The beauty of these tours is that they allow us to directly support Israel's struggling tour guides while renewing our connection to Israel and our fellow community members. While nothing can compare to visiting Israel in-person, not having to book flights and hotels has made this experience accessible to people who may not have considered traveling to Israel before."
Ilana Rosenzweig at irosenzweig@jnf.org or by calling 212-879-9305, ext. 255 can provide details about JNF Virtual Travel and Tours.