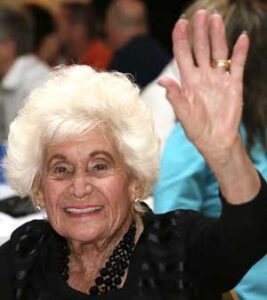 ALBANY– The late Jane Golub will be honored on Friday, May 15, at the local Jewish National Fund (JNF)-USA's (virtual) Breakfast for Israel. Israel's Consul General to New York, Ambassador Dani Dayan, will address the region during the 8 a.m. program. A dedication recognizing Golub's various philanthropic work is planned. Golub received the unofficial title of "tree-lady" by the local JNF chapter, that she had helped to found, in recognition of her efforts to plant thousands of trees in Israel.
"No one could be kinder, sweeter or more thoughtful," said JNF-USA Capital Region President, Mara Ginsberg. "Jane was committed to JNF-USA and we are ever so grateful for the time that she was able to share with our organization. Since her passing, we have all reflected on how much we admired and adored Jane. We hope that our love and appreciation for her brings some comfort to Neil, Mona and the entire Golub family and we thank them for sharing their treasured Jane with us for all these years."
Information about the virtual breakfast is available at jnf.org or by calling  JNF-USA Campaign Executive for New England and the Capital Region, Rina Wagman at 617-423.-0999, ext. 812 or e-mail rwagman@jnf.org.