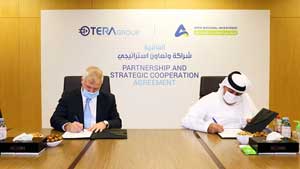 By ABIGAIL KLEIN LEICHMAN
(Israel21c via JNS) – Overcoming the Covid-19 pandemic could be just one of many positive results of Israel and the United Arab Emirates establishing full diplomatic relations on Aug. 13, 2020. The historic pact is expected to trigger joint projects in health, economics, agriculture, water technology, telecommunications, security, culture, and tourism.
"Today we usher in a new era of peace between Israel and the Arab world," said Israeli Prime Minister Benjamin Netanyahu in announcing the U.S.-brokered "Abraham Accord" with Abu Dhabi Crown Prince Mohammed bin Zayed Al Nahyan ("MBZ").
Even before the accord, on July 3, Rafael Advanced Defense Systems and Israel Aerospace Industries of Israel signed agreements with Abu Dhabi's Group 42 concerning R&D collaborations for solutions to SARS-CoV-2, the virus that causes COVID-19.
On Aug. 15, UAE company APEX National Investment signed a strategic commercial agreement with Israel's TeraGroup to develop SARS-CoV-2 research.
In the culture arena, Israeli singer Omer Adam announced on Aug. 15 that the UAE royal family has invited him to perform a private concert.
Netanyahu said that the two technologically advanced countries will open mutual embassies and direct flights, among other bilateral agreements. "This is the greatest advancement toward peace between Israel and the Arab world in the last 26 years, marking the third formal peace between Israel and an Arab nation, after Egypt [1979] and Jordan [1994]," he said.
Under The Radar
One big difference is that Israel and the UAE—a federation of seven states including Dubai and Abu Dhabi—do not share a border and never warred with one another. Under-the-radar business and security ties have been building over the past 20 years, and diplomatic ties more recently.
In 2015, then-Israeli Foreign Ministry Director General Dore Gold opened a diplomatic mission in Abu Dhabi connected to the International Renewable Energy Agency. In 2018, Israel's communications minister attended a telecommunications conference in Dubai; in 2019, Israel's foreign minister spoke at a United Nations environmental conference in Abu Dhabi.
Israel's culture and sports minister came to the Abu Dhabi Grand Slam judo competition in October 2018—where, for the first time, the UAE permitted Israeli competitors to wear their national flag on their uniforms, and played the Israeli national anthem on the winners' podium.
The new agreement puts an official stamp of approval on this ongoing relationship and allows it to expand in full daylight.
Arab Market
The development of coronavirus vaccines, therapeutics and testing will "absolutely" figure prominently in Israeli-UAE deals following the Abraham Accord, says Jon Medved, CEO of Jerusalem-based OurCrowd. Medved has been traveling to the UAE for years, building contacts between Israeli and Gulf entrepreneurs, investors and experts.
"They've got world-class hospitals and there is huge interest in working with Israel on healthcare technology, telemedicine and digital health," he said.
Medved spoke in Abu Dhabi last December at the SkyBridge Alternatives (SALT) investment conference. He was the first Israeli investor to appear on a public stage in the UAE.
"I wasn't sure they would let me speak openly about Israel, but on the contrary, they wanted me to talk about Israel's ecosystem," said Medved. "You could tell we are in historic times. I was amazed how open they are to us and how aware they are of what is going on in our country."
Medved reiterated that the UAE has long done business quietly with Israel but now will become a bigger trade partner and a bridge to other Gulf-region markets for Israel.
"For most of us, the Arab world has been more or less an afterthought, and that's about to change," he said. "We will sell them enormous amounts of health gear and ag-tech, education tech and cybersecurity," he predicted.
"For the startup community, the agreement will open up a source of tremendous new investment from the best investors in the world. [The Emiratis] are not only deep-pocketed but incredibly skilled, experienced and sharp," he said.
However, he added, "The real challenge for us is how we can really make this a win-win by trying to understand what they want. My sense is they don't want to be passive investors. They want to build joint ventures, engage in technology transfer, build startups, do business and create jobs and long-term value and partnership."
Brave And Dramatic
The Abraham Accord is "a huge diplomatic achievement for Netanyahu" and a "brave leadership act of Bin Zayed," said Yoel Guzansky, Senior Research Fellow at the Institute for National Security Studies and co-author of Fraternal Enemies: Israel and the Gulf Monarchies (Oxford University Press, 2020).
Guzansky, who coordinated Israeli policy on Iran and the Gulf states under four national security advisers and three prime ministers, said in a press call on Aug. 13 that "the announcement was historic and dramatic, but not 100 percent surprising for those who have been talking behind the scenes with Emiratis."
"Relations between Israel and some of the Gulf States, especially the UAE, is the worst-kept secret in the Middle East. It was almost ordinary for Israelis to visit the Gulf representing industries from diamonds to agriculture to desalination to security," said Guzansky.
"Relations evolved, especially in the past five years, in several dimensions—security intelligence; economic/commercial, cultural and religious dialogue—pushed and led by Bin Zayed," he added.
Guzansky believes the deal could catalyze other Arab countries in the Gulf and North Africa. Indeed, Netanyahu said he expects to "soon see more Arab countries join our region's expanding circle of peace."
Bahrain released a statement lauding the landmark Abraham Accord, while an anonymous Saudi Arabian source told Israel's Globes business newspaper that "the Arab world has a great deal to gain from Israel."
The Israeli Foreign Ministry confirmed the start of phone service with the UAE on Sunday, Aug. 16, and stated that the historic peace treaty "will benefit the entire region, helping secure a brighter and more prosperous future for all."