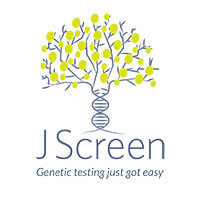 ATLANTA, GA – JScreen (jscreen.org), a national not-for-profit education and genetic carrier screening program, has  highlighted September's Tay-Sachs Awareness Month, encouraging people to have carrier testing for genetic diseases so they can make informed decisions about family planning. JScreen's expanded screening panel tests for Tay-Sachs and more than 200 other diseases through at-home DNA testing on saliva.
While anyone can have a child with Tay-Sachs disease, Ashkenazi Jews are at significantly higher risk.
Historically, Tay-Sachs carrier testing was done through enzyme testing on blood samples. A new journal article recently published in Molecular Genetics and Genomic Medicine shows that Next Generation (NextGen) DNA sequencing of the Tay-Sachs gene has a higher carrier detection rate than blood enzyme testing in both Jewish and non-Jewish populations. Since DNA testing can be performed on saliva samples, these findings provide reassurance that screening for Tay-Sachs disease can be done accurately and effectively through NextGen sequencing testing on saliva.
"Based on the results of this study, people can feel comfortable accessing carrier screening for many diseases at the same time through NextGen sequencing on saliva, and can be reassured that the Tay-Sachs results from this screening are highly accurate," said Karen Arnovitz Grinzaid, executive director of JScreen.
"Overall, the data we present provide evidence and support for NGS‐based screening as the optimal method to identify TSD carriers, irrespective of ethnicity," concluded the study. Information on the study, and the entire article, may be found at https://onlinelibrary.wiley.com/doi/pdf/10.1002/mgg3.836
One in 30 Ashkenazi Jews are carriers of Tay-Sachs disease, and one in 300 people in the general population are carriers. While there is no cure for Tay-Sachs, genetic screening can determine who is a carrier and whether a couple is at risk for having a child with this or other diseases. For the small percentage of couples that are at risk, there are many options to help them have healthy children.
Tay-Sachs disease is caused by absence of the enzyme hexosaminidase A (HexA), which causes a lipid to build up in cells and results in progressive neurological damage. According to the National Tay-Sachs & Allied Diseases Association (NTSAD), along with Ashkenazi Jews, French Canadians and Louisiana Cajuns are also considered to be at high risk for carrying Tay-Sachs disease. When both parents are carriers, each child has a 25% chance of having the disease.