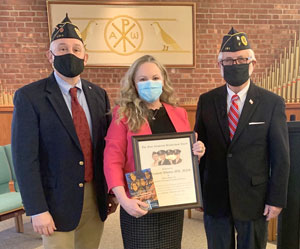 ALBANY–Members of the Jewish War Veterans (JWV) recently joined with the First Reformed Church of Schenectady to honor Dr. Elizabeth Whalen, Albany County Health commissioner, as the 56th recipient of the Four Chaplains' Brotherhood Award for 2021. A socially distant ceremony was recorded in Schenectady and is available at https://www.1streformed.com/.
The Four Chaplains were lost in the North Atlantic in February 1943 during the sinking of the troopship Dorchester. One of the four chaplains, Clark Poling, had served the faith community at the First Reformed Church in Schenectady.
"We are holding this ceremony in the Poling Chapel of First Reformed Church, named in honor of the Rev. Clark V. Poling, who came to serve this church as pastor in the spring of 1938," said senior pastor Lynn Carman Bodden in her welcoming remarks. "His story and that of three other chaplains, Father Washington, Rabbi Goode, Reverend Fox, and their sacrifice on behalf of others aboard the SS Dorchester on February 3 is what gathers us here."
On the night of Feb. 3, 1943, as America was still ramping up its role in the Second World War, the troopship Dorchester was on the last night of its journey to Greenland to deploy American forces there. On board were 904 soldiers, Merchant Marines and civilians. Four newly minted Army chaplains, Rev. George L. Fox, a Methodist minister from Lewiston, Penn., Rabbi Alexander D. Goode from Brooklyn, Dutch Reformed Rev. Clark V. Poling, from Schenectady and Father John P. Washington, a Roman Catholic priest from Newark, N.J. were among them.
With troops below decks, at approximately 1 a.m., an enemy torpedo ripped into the Dorchester's starboard side. The explosion tore a hole near the engine room from below the waterline to the top deck.
The four chaplains guided men to their lifeboat stations. They distributed life jackets to those who had left theirs below deck. When these ran out, each chaplain removed his jacket and gave it to a young soldier. Finally, with arms linked as a symbol of their common bond, the chaplains remained on the deck, each praying, as the Dorchester slid beneath the North Atlantic waters.
Of 904 aboard, 605 were lost.
Albany Post 105 of the Jewish War Veterans has led an effort to recognize a local member of the community since 1966 in honor of the chaplains' selfless service.  The JWV recognized Whalen on behalf of medical providers across the region.
"We have just come through a year of extraordinary strife and struggle brought on by the perils of a 100-year pandemic, and the challenges go on," said Fred Altman, commander of Albany Post 105. "Such times often bring out ordinary people who heed a call to service and they step up and perform extraordinary acts of courage, sacrifice and service for the good and survival of others."
"Our honoree, Dr. Elizabeth Whalen, has answered the call, not only in her own capacity as the Albany County commissioner of health, but also by her example as a most fitting representative of all of the front line healthcare providers in this war against the virus," Altman added.
"The Four Chaplains gave up their life jackets on a sinking World War II ship in an effort to save others," Whalen said. "It is the ultimate sacrifice and one that is being seen day in and day out by our essential workers led by our frontline healthcare workers."
"I am proud to be a doctor. I am proud to be able to serve our community," Whalen said after receiving the Brotherhood Award. "I am also proud to accept this recognition on behalf of all members of our healthcare community."
Whalen, who has served in the position since 2015, completed her residency at Albany Medical Center in 1998 and worked as an internist until 2002, after which she went to work for the county.
From 2010 to 2012 she worked as a preventive medicine resident and earned a master's degree in public health through a program overseen by the University at Albany and NYS Department of Health.
"Although I cannot hand you this award and shake your hand, Dr. Whalen, I can say with equal sincerity to you and all those you serve and represent: we salute you," Altman said.