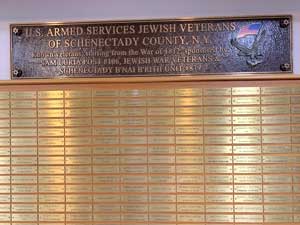 SCHENECTADY–In the main lobby of the Schenectady Jewish Community Center is a plaque recognizing residents of Schenectady County who have served in the armed forces.  The plaque is maintained by Schenectady Post 106 of the Jewish War Veterans.
The plaque is a recognition, not a memorial. Any person, living or dead, who has served is eligible to be on the plaque.
Individuals who would like to be recognized on the plaque, or know someone who should be noted on the plaque are asked to e-mail the name of the person, branch of service, rank and dates of service to Paul Zonderman, Post 106 of the Jewish War Veterans commander, (zonderman@earthlink.net) or Gene Altman, vice commander (galtman903@aol.com).  There is no charge to have a name on the plaque.
The Jewish War Veterans of the United States serves as the Jewish Voice for Veterans.  Post 106 participates in service projects including placing flags in cemeteries, sending items to overseas veterans and visiting the Stratton VA hospital.  Any veteran or former veteran interested in membership is asked to contact Zonderman for information.