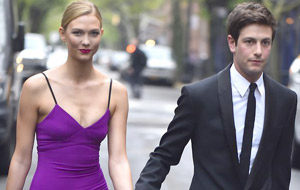 By JOSEFIN DOLSTEN
NEW YORK CITY (JTA) — After six years of dating, Joshua Kushner has sealed the deal with supermodel Karlie Kloss.
Kushner, 33, the brother of President Donald Trump's son-in-law and senior adviser, proposed to Kloss a few weeks ago, People reported on Tuesday, July 24. A Jewish wedding seems to be in the future for the couple, since Kloss, 25, converted to Judaism in June, according to People.
Kloss isn't the first to embrace Judaism to marry a Kushner. Jared Kushner's wife and the president's daughter, Ivanka Trump, converted before the couple tied the knot in 2009.
Kloss raved about her husband-to-be on Instagram, writing "Josh, you're my best friend and my soulmate."
Kloss openly supported Hillary Clinton in the 2016 presidential election, and also attended the Women's March after Trump's inauguration — with her fiance. So hopefully the Kushner family has a no-politics rule at the Shabbat table.