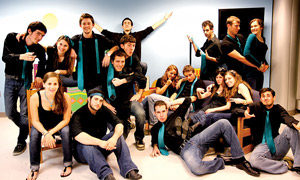 SCHENECTADY–Congregation Gates of Heaven will present Kaskeset, Binghamton University's only Jewish a cappella group, in concert on Sunday, Oct. 21, at 12:15 p.m. The concert will be held at the sanctuary, 852 Ashmore Ave., Schenectady.
The group was founded in 1996 with members from all over the country and from different Jewish (and non-Jewish!) backgrounds. The group sings four to 14-part harmonies. 
Tickets are $10 for non-members and are available.No reservations are needed
Arnold Rotenberg can provide  information, 518-374-8173, or e–mail at arotenberg@cgoh.org.