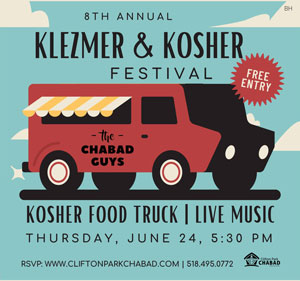 CLIFTON PARK– Clifton Park Chabad's  8th Klezmer and Kosher festival is set for Thursday, June 24, at 5 p.m. in Collins Park, 525 Moe Rd Clifton Park. The free program  is part of the Saratoga Jewish Cultural Festival.
The newest kosher food truck "The Chabad Guys" will be featured at the festival. Mediterranean, Israeli and kosher deli options will be sold.
Live klezmer music and games for kids will also be offered.
Those planning to attend are asked to make reservations at www.cliftonparkchabad.com.