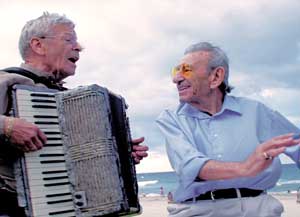 CLIFTON PARK– The Clifton Park Chabad has announced that its annual Kristallnacht commemoration will feature a discussion on Zoom of the "Saul & Ruby's Holocaust Survivor Band" ("Aka Saul & Ruby, To Life!"), an 80 minute feature documentary. The free program is set for Wednesday, Nov. 11, and the discussion is planed for 7:30 p.m.
The film, directed and produced by Tod Lending, an Oscar nominated and national Emmy winning documentary filmmaker, is a story full of comedy and tragedy according to program organizers. It follows Saul Dreier and Reuwen (Ruby) Sosnowicz, both Polish Holocaust survivors, and their musical journey followed by their emotional journey to Poland where they relive the joys of their youth and the ensuing horrors of Nazi occupied Poland.
The event is free. Reservations are required at www.cliftonparkchabad.com. Those planning to attend will be given a code to watch the film at 6 p.m. or at another time.