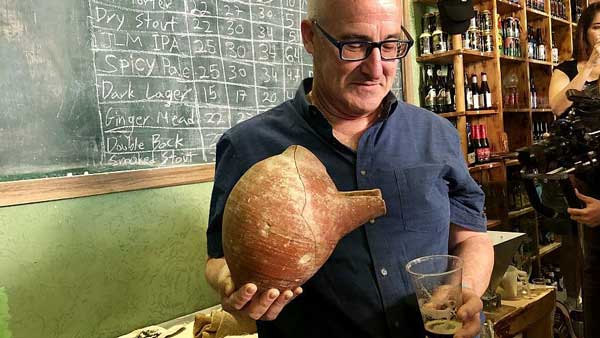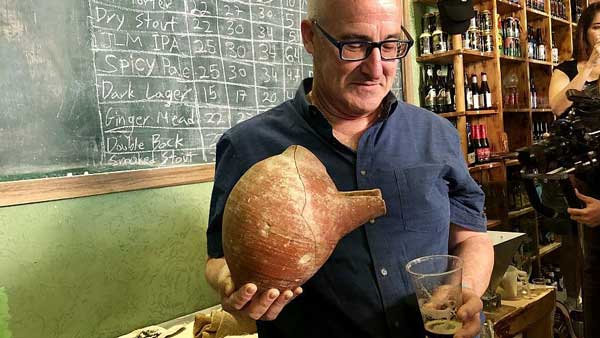 By ELIANA RUDEE
(JNS) – Israeli scientists have recently provided a pint-sized glimpse into what it may have been like to have cocktails with Cleopatra and beer with the pharaoh. Recently, in a joint effort between the Hebrew University, the Israel Antiquities Authority, Tel Aviv University and Bar-Ilan University, scientists resurrected 5,000-year-old brew, grown from the live yeast found in ancient beer pots.
A First
After discovering a unique way to isolate yeast from ancient pottery—and together with a local brewer—the Israeli archaeologists and microbiologists produced high-quality beers that modern drinkers can enjoy.
"This is a brand-new concept that has never been done before," Professor Aren Maeir of Bar-Ilan University's Land of Israel studies and archaeology told JNS. "No one has successfully isolated ancient yeast or any ancient organism in an archaeological context," he said.
"This could open up an entirely new field of identifying and rediscovering organisms, like ancient pickles, wine and cheese," he continued. "We are fortunate to taste the fruits of this new field."
Similarly, added Yitzchak Paz of the Israel Antiquities Authority, "We are talking about a real breakthrough here. This is the first time we succeeded in producing ancient alcohol from ancient yeast."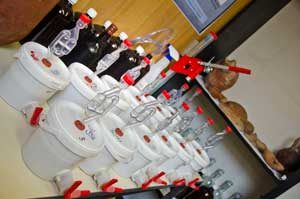 Excited To Help?
Together with Paz, the research was led by Ronen Hazan and Michael Klutstein, microbiologists from the Hebrew University of Jerusalem. Using shards of pottery that had been used as beer and mead (honey wine) jugs back in ancient times, the scientists found that the vessels still had yeast specimens stuck inside. The team examined the colonies of yeast that formed and settled in the vessel's nano-pores and found that the jars date back to the reign of Egyptian Pharaoh Narmer (roughly 3,000 BCE), to Aramean King Hazael (800 BCE) and to Prophet Nehemiah (400 BCE) who, according to the Bible, governed Judea under Persian rule.
To recreate this yeast for a high-quality 5,000-year-old brew, local Israeli beer expert Itai Gutman helped the scientists make the beer, which was sampled by Ariel University's Elyashiv Drori, as well as by certified tasters from the International Beer Judge Certification Program, under the direction of brewer and Biratenu Jerusalem beer center owner Shmuel Naki. The testers gave the beer a thumbs up, deeming it high quality and safe for consumption.
Hazan and Paz noted that "we now know what Philistine and Egyptian beers tasted like."
'Ancient Methods'
Professor Yuval Gadot of the Tel Aviv University's Department of Archaeology and Ancient Near Eastern Cultures told JNS that this discovery and recreation is significant for archaeologists, microbiologists and beer lovers alike.
Archaeologists, he explained, "now know what the vessels were used for" and have insight into the ancient drinking habits that he said are "a major part of politics and making a society."
Additionally, the archaeological find of large jugs with the letters "J," "H" and "D" (Yahud) written on them, is telling of the tax system in the Judean kingdom. Ramat Rachel, where they were found, is the largest Persian site in the Judean kingdom. "In a royal site like Ramat Rachel, it makes sense that alcohol would be consumed at the home of the Persian governor," said Gadot.
Hazan added that "aside from the gimmick of drinking beer from the time of the pharaoh, this research is extremely important to the field of experimental archaeology—a field that seeks to reconstruct the past. Our research offers new tools to examine ancient methods, and enables us to taste the flavors of the past."
New Tools
For microbiologists, the discovery of microorganisms living in extreme situations was groundbreaking. Hazan noted at a Jerusalem press conference and beer-tasting, "The greatest wonder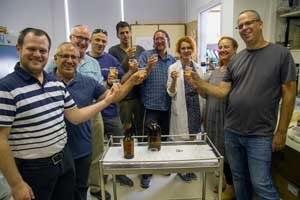 here is that the yeast colonies survived within the vessel for thousands of years—just waiting to be excavated and grown."
For beer-lovers, Gadot said the experience of trying the beverage was "pure excitement, bridging 5,000 years."
Explained master brewer Naki, "maybe more than half of the beer's flavor comes from this strain of yeast and how we handled it." He told JNS that creating the beer was "pure fun, a privilege, an honor and a thrill. It's a very nice glimpse into the ancient beverage and ancient world.
"Just imagine," he suggested, "these strains came from vessels from all around this area, and in a sense, now we can imagine ourselves sitting in an ancient bar of sorts and having the experience of people thousands of years ago. It's really extraordinary."