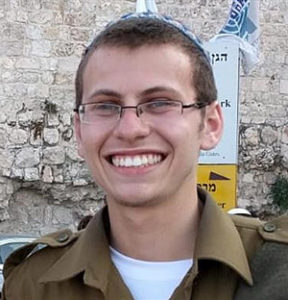 By MARCY OSTER
JERUSALEM (JTA) — An Israeli soldier with dual Israeli and American citizenship is breathing on his own more than a week after being shot in the head in a West Bank terror attack.
Netanel Felber was shot in the head several times during a shooting attack on Dec. 13 at a bus stop outside of the Givat Asaf settlement. Two other soldiers were killed in the attack, when a Palestinian gunman stopped his car next to the bus stop, got out of the car and began shooting. An Israeli woman, a civilian, also was injured in the attack.
The Hadassah Medical Center in Jerusalem said Sunday, Dec. 23, that Felber, who had emergency neurosurgery after the attack, is still in a life-threatening condition, but that he has improved slightly and begun breathing on his own.
Felber made aliyah with his parents and siblings from Silver Spring, Md. in 2006, according to the Yeshiva World News website. He is serving in the Netzach Yehuda battalion, a Nahal Haredi unit, which accommodates strictly observant, or haredi, youth allowing them to serve in the army.
The family lives in Ra'anana in central Israel.
A public prayer service for Felber's recovery was scheduled for Sunday evening at the Western Wall.
He has not been identified by name in Israeli media, but his parents have identified him and spoken about him in religious Jewish news websites.
Israel's education minister, Naftali Bennett, a resident of Ra'anana, in a post on Facebook, called the Felbers a "charming, idealistic, Zionist family."
Bennett described Netanel Felber as "a happy young man, with a huge heart, who for four consecutive years, every Shabbat, went to a nursing home to pray and visit the elderly residents. Always helping everyone, always and doing good. Now it is our turn to try for him."
The U.S. State Department, in response to a query from JTA, said in a statement: "The U.S. Department of State and our embassies and consulates abroad have no greater responsibility than the protection of U.S. citizens overseas. We are aware of reports of a terrorist attack involving a U.S. citizen in the West Bank on December 13. We provide all appropriate consular services to U.S. citizens in need overseas. Due to privacy considerations, we have no further comment."