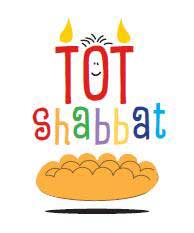 SCHENECTADY–Congregation Gates of Heaven Tot Shabbat services for nursery through second-grade children continue on Friday evenings on the first Friday of every month at 5:30 p.m. They are now held virtually via Zoom. The next tot service on Sept. 4, will be led by Rabbi Matt Cutler and Elisa Harrington-Verb, cantorial vocalist.
"Bring your candles and kidush cup and let's make Shabbat together! Come capture that special Shabbat feeling with us. The meeting is virtual, but Shabbat is real," says Arnie Rotenberg, director of Congregational Jewish Living. The half hour program is free and open to the public.
Zoom registration (a Zoom link will be e-mailed after registration register is slated.
https://zoom.us/meeting/register/tJMscuiprjIpEt3l1T8v2NqpymQYIz8nx-NG
Kathy Laws of the temple office at klaws@cgoh.org at 518-374-8173 can provide details.