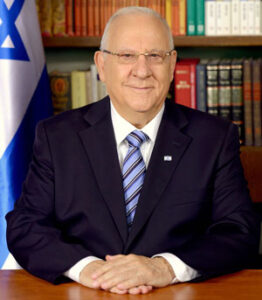 ALBANY– The Jewish Federation of Northeastern New York (JFNENY) will join Jewish Federations of North America (JFNA) for a "virtual" celebration of Israel's 73rd Independence Day, also known as Yom Ha'atzmaut. The event will be held on Thursday, April 15 at 7 p.m. and will feature the final farewell address of Israel's 10th president Reuven Rivlin. Rivlin is expected to end his presidency on July 5. This one-hour program is free and open to the public.
Rivlin will address the diaspora community and discuss his legacy, Israel's future, and how Israeli athletes and sports teams have helped to shape Israel's history and path forward as his seven-year term comes to a close. The celebration will also spotlight two Israeli Olympic gold medal hopefuls in recognition of the accomplishments and resilience of the country's athletes. Rhythmic gymnast Linoy Ashram and marathon runner Marhu Teferi will make an appearance prior to their departure to Tokyo for the 2021 Summer Olympics.
Other guests will include Minnesota Vikings Owner and JFNA Board of Trustees Chairman Mark Wilf; six-time NBA All-Star Amar'e Stoudemire; Israeli actress and producer, Noa Tishby; Israeli-American husband and wife musical duo, Yonina; and 100-year-old Hungarian-Israeli gymnast and Holocaust survivor, Agnes Keleti.
Registration and information on the program may be obtained at www.jewishfedny.org/federation-events/global-yom-haatzmaut-celebration or by contacting Marci Galinkin at mgalinkin@jewishfedny.org.