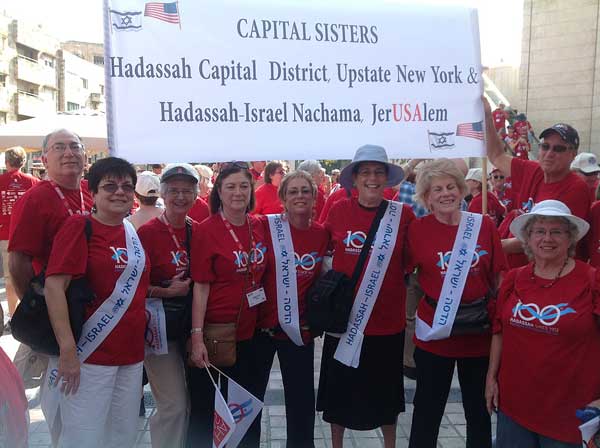 By Josie Kivort, Janet Deixlert
In early November of 2019, Hadassah Capital District, the chapter, which most recently served 1,300 members in the Albany, Clifton Park, Colonie, Saratoga Springs, Schenectady and Troy communities, suspended formal operations.
Hadassah National Assembly memrojecber and past region president Josie Kivort said, "Hadassah Capital District is no longer, but we, the members, are still here. We celebrate our decades of accomplishments, our leadership, our support of the people of Israel and the life saving patient care and medical research at Hadassah Hospitals in Jerusalem. We will continue to do so."
Regional Hadassah members are now considered part of the Northern New England Region of Hadassah.
Chapters Throughout Region
Hadassah as an organization had been active in the Jewish community of the Capital District for almost 100 years.
Soon after Hadassah was founded by Henrietta Szold in New York City 1912, chapters began to form in upstate N.Y.  Schenectady was first in this area and was chartered in 1921, followed by Albany in 1923, Amsterdam 1924, Troy in 1926 and Saratoga Springs by 1927. Later, as people moved to the suburbs, a Colonie chapter was established in 1968, and Clifton Park in 1972. There were a variety of reorganizations by age and location, including in the 1980s the merger of Amsterdam with Schenectady, and the reorganization of Albany into Albany-Bethlehem, and  the formation of the Albany Chai chapter. Around 2005, the seven chapters remaining merged to become Hadassah Capital District, which served the entire area.
Educating And Fund-raising
Over the decades, Hadassah was known in this area for long-standing study groups, donor events, Hadassah Shabbats, special gifts events (begun in the 1970s in Troy), gift wrap (begun first by the Colonie chapter), the Hadassah Bargain Box (a thrift shop operated by the Schenectady chapter) and later health fairs at Colonie Center in which all the area chapters participated. Additionally, for many years, members of Hadassah Capital District designed, created and donated medical dolls for children in area hospitals in Saratoga Springs and the Albany area   and to social service agencies and to the Eshkol region in Israel.  The made and gave away 75 dolls every three months.
These events and programs were planned to educate the community and to raise funds for Hadassah's projects, primary among them the Hadassah Medical Organization (HMO), with its two hospitals in Jerusalem.
Beyond its fund-raising activities, Hadassah on both a local and national level has advocated for issues addressing women's health and support of Israel. A major success was Hadassah's support of stem cell research in the United States.
Leadership
The Capital District area provided many leaders for the region and national boards. This region was first known as Upper New York State Region of Hadassah. Later, in 2001, (after the addition of a portion of Pennsylvania), it became Hadassah Upper Mid-Atlantic. Over the decades, out of a total of 33 region presidents, 11 region presidents came from the Capital District area: Bertha Lasdon, Minna Breuer, Lisl Aftergut, Rita Cohen, Bea Klein, Josie Kivort, Patricia Levinson, Dorothy Ganz, Janie Garnett, Sheree Mirochnik and Janet Deixler.  Most of these women went on to serve on Hadassah's national board. Four of them still have portfolios on the national level: Josie Kivort, Patricia Levinson, Dorothy Ganz and in mid-January of this year, Janet Deixler, of Schenectady and Port St. Lucie, Fla., was installed as a Hadassah national vice president.
Although the structure of Hadassah Capital District has been disbanded, there are still approximately 1,300 Hadassah members plus Hadassah Associates and Child Life Members in the Capital District, who continue to support the mission of Hadassah including its Jewish and Zionist education, fund-raising for HMO, Young Judaea Scholarships and Youth Aliyah.
This past December, 73 local members came together at Crossgates Mall to staff the gift wrapping booth that was begun long ago by the then Colonie chapter. Hadassah cards and certificates may still be purchased from a local team, whose chairperson is Elaine Lowenberg, 518-505-5031.
Hadassah programs will continue locally with a Hadassah Shabbat on Saturday, March 7, beginning with services at 10 a.m. and featuring a kiddush luncheon. It will be held at Beth Shalom Synagogue in Clifton Park. Kathy Kerstein of Burlington, Mass., the region president, will participate in the service, which is open to the community.
The organization's impact on this Jewish community and its many local efforts will be noted on Thursday, May 14, with a dedication ceremony of a Hadassah display case at the Jewish Federation Of Northeastern New York Golub Center.