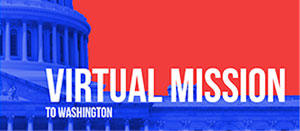 The Jewish Federation of Northeastern New York (JFNENY) will join the national Jewish Federation of North America for the first- Jewish Virtual Mission to Washington D.C. from Feb. 1 to 2. The mission is free and open to the public.
Attendees from communities throughout the country will meet with members of the new administration and bi-partisan congressional leaders to advocate for the priorities of the Jewish community as understood by the Federations.
"This is an exciting opportunity to hear from those of the new administration and have conversations about important topics and issues in our Jewish communities," said Rob Kovach,  JFNENY president and CEO.
Participants will have the opportunity to learn about the fight against anti-Semitism and what is happening with the U.S.-Israel relationship and understand the case for government resources to keep communal institutions flourishing and provide for the vulnerable, such as Holocaust survivors.
Information on the mission's agenda, and various speakers for the event and to register, may be obtained at visit www.jewishfederations.org/DCMission.