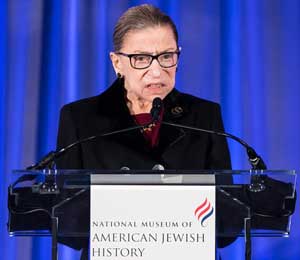 The Jewish Federation of Northeastern New York will host a virtual tour of "Notorious RBG: The Life and Times of Ruth Bader Ginsburg," an exhibition at the Illinois Holocaust Museum & Education Center on Thursday, Dec. 17, from 6 to 7 p.m.
A guide will conduct the tour, featuring an exploration of Justice Ginsburg's life and her often-simultaneous roles as a student, wife, mother, lawyer, judge, and women's rights pioneer. The exhibition tells Ginsburg's story using an array of gallery interactives, listening stations, archival photographs and documents, historical artifacts, and contemporary art.
Based on the book and Tumblr page of the same name, "Notorious RBG" is the first-ever museum exhibition focused solely on the judicial icon.
The event is free and open to the public. Those wishing to participate in the tour may register on the Jewish Federation website at https://jewishfedny.regfox.com/virtual-tour-of-notorious-rbg-life-and-times-of-ruth-bader-ginsburg.  The Jewish Federation at info@jewishfedny.org or 518-783-7800 can provide details.