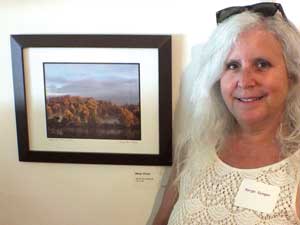 Margo Singer of Castleton, NY announced that "The Traveling Lens of Margo Singer," a showcase of thirty-five photos, is now on view at Uncommon Grounds, 1235 Western Avenue in Albany. The show is on display through November 23, 2020. Uncommon Grounds is open every day, has outdoor seating, and enforces COVID-19 social distancing and mask procedures.
Singer's photographs feature some of her favorites travels abroad and locally. They include city scenes from Jerusalem, Prague, Montreal and New Orleans, in addition to the natural landscapes of Bryce Canyon and Zion national parks, along with the Adirondacks. Prominent are several locations in the greater Capital Region. Given the travel restrictions due to COVID 19, Singer felt that it was important to showcase our love of traveling, which she hopes she will eventually be able to return to.
This is Margo's first solo photography exhibit since COVID-19. Her last solo show was for First Friday in February at the Unitarian Church. Singer notes that due to COVID, three solo shows that were scheduled for this past Spring and Summer were cancelled.  She is grateful to the staff at Uncommon Grounds for rescheduling this show so that it could still take place. Singer has three photographs in the annual "BUILT" fundraiser for the Historic Albany Foundation at The Woman's Club of Albany through November 7th and was part of the Upstate Artist Guild's show in October at Art Associates Gallery. One of her photos in this show, "Memphis Windows", was selected by the Juror for the Albany Center Gallery's 42nd Annual Photography Region Select exhibit.
Singer is employed as a Program Coordinator for the Brain Injury Association of New York State and enjoys taking photos during her leisure time. Margo and her husband Israel (Izzy) are members of Congregation Berith Sholom and the Nassau Synagogue. Izzy, a graphic designer, is known to Jewish World readers for his monthly "Iz Visions" cartoons.